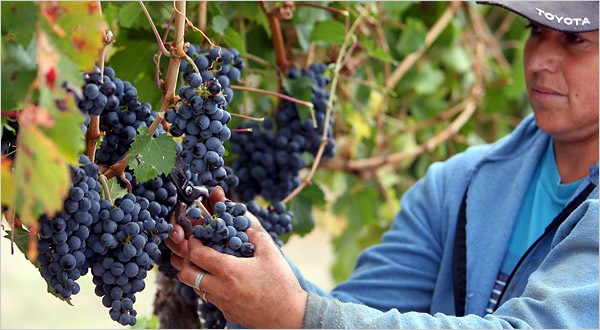 Malbec is fast becoming the beloved icon of Argentina. This humble red grape back in
2006 was creeping into the spotlight, but since then its popularity has spread at a rapid rate. And no wonder – a really good Malbec is practically perfect. Yet this grape, like Rodney Danger field just did not get much respect in it home country of France as this French grape originally hails from Bordeaux. French winemakers often use Malbec to soften the often harsh tannins of its stout compatriots such as a Cabernet Sauvignon to create a balanced blend.
Malbec almost got killed off in the 1980's. Back then, Argentina hoarded 75 percent of their wines and domestic sales were declining. The government mandated wineries to uproot their decades-old Malbec vines in favor of other crops and much of the best fruit was yanked.
Enviously watching Chile's success in the U.S., Argentinean wineries realized the outside world might buy their stuff too. Wineries began focusing on quality instead of bulk and Malbec bloomed. The wines were relatively inexpensive and, like New World merlot, achieve a soft, elegant user-friendliness that people love. That doesn't mean that a Malbec is wimpy.
Malbec is grown around the world now, but Argentina pretty much owns the market. However she does not own all of the market, hence enters a few wineries and vineyards along some of California's Wine Trails. I have tasted some flaws. However, I happy to say I have tasted a few (and I am still searching) that are excellent!
So Don't Cry Argentia!
So, don't cry, Argentina, but you've lost a bit of your glory. The top Malbec back at the 2009 San Francisco International Wine Competition didn't come from Argentina. So which wine won, and where did it come from? Voted overall best was a California wine, the 2006 Malbec from McKeon-Phillips Winery in Santa Maria, California. Of the 64 entries in the Malbec category included 38 from Argentina. Three of those won double golds in the competition as did one other California Malbec. But only the McKeon-Phillips wine was elevated beyond double gold to best overall. So a lot of "at a boys" went to Winery owner Ardison Phillips. The grapes came from Halcyon Vineyard in Paso Robles.
The McKeon-Phillips Malbec is composed of 92% Malbec, 6% Cabernet Sauvignon and 2 % Merlot. After blending, the wine spent 29 months in French and American oak. Only 113 cases were produced. Phillips' son, Bailey Paul McKeon-Phillips, was the winemaker.
The other California double gold winner was Charles Creek Vineyard Malbec 2007, East
Soda Rock Vineyard, Alexander Valley. The Argentine double gold winners were the 2008 Alamos Malbec, 2008 Don Miguel Gascon Malbec and the 2008 Finca Sophenia Reserve Malbec, all from Mendoza.
Well, I have recently enjoyed 3 other fine Malbec's that hail from California vineyards. Martin Ranch Vineyards "THERESE VINEYARDS 2008 MALBEC – Santa Clara Valley – Dos Ninas Vineyards, STEVEN KENT'S 2007 MALBEC – Livermore Vineyards, and WINDSOR VINEYARD' – , oh and I just got a bottle of STEVEN KENT'S 2008 MALBEC (want to enjoy this one with some friends). Note: I did pull the cork on this wine. While I did not enjoy it in the best of conditions, it was outstanding!
I enjoy a lot of different wines and probably like some of you, all them for different reasons. Malbec is one of the reds that brings back memories to my visit to Australia and my first time to taste a Malbec at Brown Brothers Winery. I enjoyed this new experience and was so sad that I had only purchased a couple of bottles, enjoyed one at dinner with my good friend David McKenzie while in Australia and the one bottle I brought home and forgot about for about 6 months. Not a lot of Malbec planted in California. However, Argentina may have to shed a tear or two over some of the wines coming out of the Golden State. If you have not tried a Malbec recently here are a couple of suggestions:
THERESE VINEYARDS 2008 MALBEC
Santa Clara Valley – Dos Ninas Vineyards (750ml)
At the foot of the Santa Cruz Mountains, Dos Niñas grows fruit reflecting the true character of the varietal as this Malbec clearly showcases. Up front there's traditional blackberry and boysenberry fruit, evolving into a vanilla/violet nose, with a hint of cinnamon. A luscious plum tannin finish completes the experience. Perfect with Boeuf Bourguignon. Drink now and for the next several years!
The Martin Ranch Winery was very proud to announce that this summer they received two coveted Double Gold medal awards!
The 2009 Therese Vineyards Malbec Dos Ninas Vineyards from the Santa Clara Valley won not only a Double Gold, but also but also Best Malbec from the very prestigious 2011 San Francisco International Wine Competition. This wonderful and delicious Malbec also won a Gold Medal and Best of Show at the 2011 Santa Cruz Mountains Commercial Wine Competition.
STEVEN KENT'S 2007 MALBEC – Livermore Vineyards, oh and I just got a bottle of STEVEN KENT'S 2008 MALBEC , (I want to enjoy this one with some friends).
Note: I did pull the cork on this wine. While I did not enjoy it in the best of conditions, it was outstanding! Hope to get more.
Both of the Steven Kent wines, 2007 and 2007 had aromatic notes of dried cherry, brambly berry, and spice join seamlessly with a viscous mid-palate and substantial finishing tannin to create a supremely interesting and delicious wine.
I must say that "Windsor Oaks 2007, Mountainside Block" brought back some found memories of the wine I found years ago and a few pleasant memories of our visit years ago to the land down-under. I am looking forward to sitting down with a couple of friends and sharing this bottle with them. The Malbec is unfiltered, unfined and very rich with notes of blueberry and mocha. (Too late, by the time I completed this article the bottle from Windsor Oaks was long gone) It was delightful!
Before leaving to visit the winery I had noticed that Windsor Oaks website indicated that they made a Malbec. I was pleased to see that it was offered at the tasting as well. I remember some years back, my wife, son and I were visiting in Australia. My friend David McKenzie was doing some work with the wineries at the time and suggested we stop at Brown Brother's Winery. That was the first time I had ever tasted a Malbec. I have been meaning to return to the Malbec to find a replacement for the Brown Brother's that I had enjoyed so much. I remember being so disappointed I had only purchased two bottles. I am glad to say that this California wine-lover has found three very nice Malbec's that I will return to again soon!