Paso Robles Wines
Like so many of the wine regions, you just cannot visit all of the wineries in a day or two. Here are some suggestions for breaking-up Paso Robles and its wineries. Try one or several out for size, come back and try a few more another day. It is a great way to take your time and really enjoy your visit to Paso Robles Wines and Wineries.
Back Road Wineries of Paso Robles
For this fabulous Paso Robles Wine Country Tour, leave from downtown and go south on Highway 101 and take the Vineyard Exit. Drive for two and half miles and you will come to the first winery Turley Wine Cellars. Don't forget to pack a lunch so you can enjoy the day.
Adelaida Cellars – Back road beauty
Justin Vineyards and Winery – The ISOSCELES wine + Bed & Breakfast spot
Norman Vineyards – Monster Zinfandel
Opolo Vineyards – Beautiful setting, great reds
Tablas Creek Vineyards – California's Châteauneuf-du-Pape
Turley Wine Cellars – Delightful old vine Zinfandel
Highway 46 West

This is a fabulous California wine country tour of the Paso Robles wineries on Highway 46 West. Leave the Paso Robles town center after stocking up for your picnic lunch. On Highway 101 watch for the exit to Highway 46 West to Cambria. The wineries on this wine trail are all small and family owned. Each winery is unique and worth visiting. Much of this wine country is located in the Templeton Gap, an area that receives cooling afternoon breezes from the Pacific Ocean.
A Few Top Wineries to Enjoy Along This Trail
Castorro Cellars – A great overall value in wines
Dark Star Cellars – Limited production of reds
Midnight Cellars Winery – Many fantastic reds
Peachy Canyon Winery – Zinfandel heaven, great picnic area
Highway 46 East
This California wine country tour of the Paso Robles wine region takes you to wineries on Highway 46 East. Head north on Spring Street to 24th Street. Turn right and follow the signs to Highway 46 East. Visit the caves at Eberle, the saloon-style tasting room at Tobin James and much more.
Eberle Winery – Elaborate cave system, great picnic spot
Tobin James Cellars – Saloon style tasting room, great wine club
Santa Maria Wines & Wineries
Sometimes it's the unbeaten path that leads to the best discoveries. Such is the case in the Santa Maria Valley, where fine wine, world-famous barbecue and open roads make for a uniquely memorable wine tasting experience. Here, in northern Santa Barbara County on California's Central Coast, you will savor artisan wines at more than a dozen tasting rooms set amid rolling hills and picturesque vineyards. Pinot Noir, Chardonnay and Syrah are just some of the wines that excel in the valley's temperate coastal climate.
Santa Maria is home to historic buildings, museums, and interesting sightseeing opportunities. Take advantage of Santa Maria attractions and those in the surrounding area, both indoors and out. From a simple picnic or afternoon retreat to the park to a hike, a round of golf, or a more adventurous sport, there are plenty of activities to keep you busy in Santa Maria.
The Santa Maria Valley is nestled in the foothills of Santa Barbara County and located in the heart of California's Central Coast. It is here that you will discover beautiful scenery, championship golf courses, national theater, bird watching, pristine beaches, performing arts, and Santa Maria's world famous barbecue, nearby missions, hiking, festivals, family events, and award winning wineries located along the Foxen Canyon Wine Trail.
GOLF
With the moderate climate, scenic courses golf is a year round event. You can choose from over 20 golf courses that surround the beautiful Santa Maria Valley. With so many golf courses to choose from, it's easy to enjoy a round or two.
HIKING AND BIKING
Santa Maria Valley boasts miles and miles of highways and scenic byways that provide access for riders to enjoy the pictorial wonders of the Central Coast. Enjoy beautiful parks, the scenic Foxen Canyon Wine Trail, unspoiled beaches and numerous bicycling trails are popular rides. Coordinated cycling events take place throughout the year in Santa Maria.
February through April, the slopes of Figueroa Mountain begin to turn into colorful fields of California poppies, owl's clover and lupines. Camp overnight and enjoy over 15 unique hiking trails, explore historic mines and pioneer homesteads.
Oso Flaco Lake
Oso Flaco Lake is one of the freshwater lakes in the dunes northwest of Guadalupe. Oso Flaco offers amazing diversity, including a marine beach, marshland, forest, grassland, chaparral and desert dunes. You will find a variety of mammals, amphibians, and reptiles. There are 200 species of birds living in or migrating through the area, many of which are endangered or federally protected. Take Highway 1 and go west on Oso Flaco Road.
Rancho Guadalupe-Nipomo Dunes Preserve
Located in Guadalupe, nine miles west of Santa Maria, this spectacular ecological preserve boasts the highest beach dunes in the Western United States, with some towering at an awesome 500 feet. It is also the second largest stretch of dunes in California. The Rancho Guadalupe-Nipomo Dunes Preserve is ideal for picnics, whale watching and hiking. Take West Main Street (Hwy 166) west from Santa Maria.
What would a visit to California Wine Trails be without some good eats? Be sure to try some of Santa Maria's Barbecue.
Santa Maria Barbecue has its roots in the mid-19th century, when the rancheros gathered to help each other brand their calves each spring. The host would prepare a Spanish style barbecue as a thank you for his vaqueros (America's first cowboys), family and friends. Under the oaks of this serene little coastal valley they would enjoy a traditional feast that included beef barbecued over a red oak fire, served with Pinquito beans, bread, salsa and homemade desserts.
The present Santa Maria Style Barbecue grew out of this tradition, and achieved its "style" some 60 years ago when local residents began to string their beef on skewers and cook it over the hot coals of a red oak fire. The meat, either top block sirloin or the triangular-shaped bottom sirloin known as "tri tip," is rolled in a mixture of salt, pepper and garlic salt just prior to cooking. It is then barbecued over red oak coals, giving the meat a hearty, smoky flavor.
Once a well-kept local secret, word of Santa Maria Style Barbecue has spread around the world, enticing travelers to come by the thousands, seeking a taste of this local specialty, and it's not difficult to find. On a typical Saturday, you will see clouds of fragrant smoke billowing through the air, leading you to numerous barbecues throughout the city. They range from outdoor feasts along Broadway sponsored by schools and local charities, to restaurants offering a more formal dining experience, to backyard cookouts where families enjoy their own recipes that have been passed down through the generations. Its no wonder Santa Maria is called the "Barbecue Capital of the World."
SANTA MARIA WINES
Listed for your pleasure are a few of the wineries you can enjoy while in Santa Maria:
Brucher Winery and Golden Bear family of fine wines offer a variety of flavors for every occasion. Whether enjoying a refreshing Chardonnay on a lazy summer afternoon or savoring a hearty Pinot by the fire, Brucher wines ensure your next sip is a celebration.
Byron Vineyards and Winery specializes in handcrafting Pinot Noir and Chardonnay from estate-owned vineyards in the cool climate of the Santa Maria Valley.
Cambria Estates visit this private, family-owned estate winery, established in 1986, and experience the flavors of the Santa Maria Bench region.
Cottonwood Canyon produces "distinctively different age worthy wines." Enjoy barrel tastings in the unique wine caves on weekends or with an appointment.
Foxen Taste Burgundian and Rhône varietals at the new state-of-the-art solar powered winery, and Cal-Ital and Bordeaux wines at the 'shack.'
River Bench is a landmark local vineyard that has stepped into the limelight with its own masterful interpretations of Pinot Noir and Chardonnay.
Tres Hermanas is focused on the creation of fine French and Italian-style wines from estate vines and other leading vineyards on the Central Coast.
Santa Ynez Valley Wine Country
Welcome! To Santa Ynez Wine Country
Nestled in the heart of Santa Barbara County's legendary vineyards, is the breath-taking Santa Ynez Valley Wine Country. Take-in the beauty of this Valley while touring some of the enchanting wineries and taking in magnificent countryside. The perfect destination for a getaway weekend or relaxing day trip, the Santa Ynez Valley boasts exquisite hotels, wonderful restaurants and unique shopping opportunities.
While in the Valley, discover the charm of the village of Los Olivos, rustic Santa Ynez and the quaint Danish village of Solvang. Relax amidst the vines while taking in the ancient oaks stretching out over gently rolling hills. Enjoy sampling award-winning varietals, including; Chardonnay, Sauvignon Blanc, Viognier, Cabernet Sauvignon, Pinot Noir, Syrah and Merlot.
Wine tasting and touring in the Santa Ynez Valley is a don't-miss experience, meander over sage-scented rural roads with a backdrop of oak-studded hills. Stroll through vibrant vineyards and sip, swirl and savor the flavors. With four distinct American Viticulture Areas (AVAs) sprawling from the Santa Ynez Valley, more than 1 million cases of wine are produced annually – including popular and unique varietals: Chardonnay, Pinot Noir, Syrah, Sauvignon Blanc, Pinot Grigio, Cabernet Sauvignon and Viognier. Most of the 120+ wineries located here are small boutique operations and many are family-owned and operated. Visitors enjoy the area's strong rural flavor and tasting world-class wines in an unpretentious, friendly atmosphere where it's not unusual to end up chatting with the winemaker or owner at the winery or in-town tasting rooms. With a moderate climate, beautiful scenery and peaceful country living, it's no wonder the Santa Ynez Valley has become home to so many exceptional wineries.
San Ynez Wine Country is just two hours from Los Angeles and five hours from the San Francisco Bay and easily found off Highway 101. Another wonderful spot for you to plan to spend a leisurely weekend along another California Wine Trail! You can find a wide range of lodging and dining in the beautiful part of California Wine Country.
3555 Roblar Ave. , Santa Ynez, CA 93460,
Bridlewood Estate Winery is committed to making distinctive, refined wines from the finest grapes in the heart of California's Central Coast.
Buttonwood Farm Winery & Vineyard
1500 Alamo Pintado Road,, Solvang CA 93463
Taste our estate wines in a friendly atmosphere. Relax on our patio and sip our wide range of delicious wines, from Sauvignon Blanc to Cabernet Franc!
3563 Numancia St. #101, Santa Ynez, CA 93460
We specialize in the production of ultra premium wines: Pinot Noir, Syrah and Cab Franc from SB County vineyards.
Consilience, Marianello & Tre Anelli
2923 Grand Avenue, Los Olivos, CA 93441
Take your palate on a trip to France, Italy and Spain right here in the heart of Los Olivos.
2939 Grand Ave., Los Olivos, CA 93441,
Daniel Gehrs Wines is a small, family owned and operated winery featuring small lots of hand-crafted wines.
2974 Grand Avenue, Los Olivos, CA 93441
Celebrating Rhone-based varietals and esoteric offerings, Epiphany addresses the needs of the adventurous wine lover.
6200 Foxen Canyon Road, Los Olivos, CA 93441
A multi-generational family winery that continues to build upon the vision of our patriarch, Fess. 25 years crafting award winning wines in SB County.
3950 East Highway 246, Santa Ynez, CA 93460
Our beautiful, Spanish-style Tasting Room is open daily and offers wine tasting and barrel tastings.
Hitching Post II Restaurant and Winery
406 E. Hwy. 246, Buellton, CA 93427
The quintessential Wine Country experience since 1986, with wood fire grilled "Santa Maria" barbeque and world class Hitching Post Pinot Noirs.
Malibu Family Wines Los Olivos
2363 Alamo Pintado Avenue, Los Olivos, CA 93441
Malibu Family Wines, proud producers of Semler Estate and Saddlerock Wines.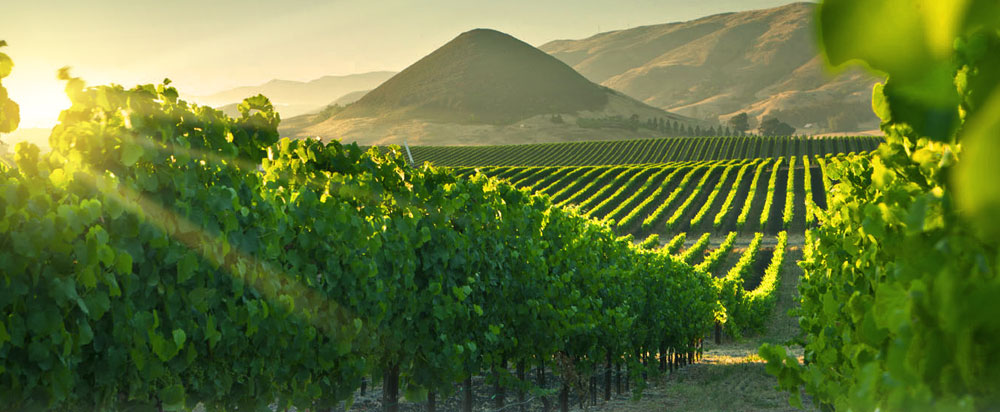 San Luis Obispo and Santa Barbara
San Luis Obispo and Santa Barbara counties make up the southernmost district of the Central Coast AVA. There are 27,600 acres of wine grapes planted in San Luis Obispo County and 16,600 acres planted in Santa Barbara County, totaling more than 44,000 acres. Together they make up 7.4 percent of the total state winegrape crush. The number one wine grape variety in San Luis Obispo County is Cabernet Sauvignon with 8,600 acres. Merlot is second with 4,200 acres. There are about 110 wineries in the County. In Santa Barbara County, Chardonnay is the predominant grape with 7,100 acres, and Pinot Noir follows with 3,200 acres. There are almost 90 wineries.
The city of Paso Robles, situated 20 miles inland from the Pacific Ocean, is in San Luis Obispo County, halfway between San Francisco and Los Angeles. The area is characterized by warm, clear days, generally unencumbered by clouds, fog or severe winds. Nighttime temperatures drop by approximately 40 degrees, cooled by a marine layer that moves over the region after sunset. Proximity to the ocean, orientation of the numerous canyons and valleys, and varying elevations produce diverse macroclimates, allowing production of both cool and warm loving winegrape varieties. There are four general soil associations, primarily formed from the weathering of granite, serpentine, shale and sandstone.
In Santa Barbara County, the north-south coastal range of mountains abruptly turns to run almost east-west for 50 miles, framing the valleys in a unique transit to the Pacific Ocean. This is the only stretch of land from Alaska to Cape Horn constituting an east-west traverse. The unique topography allows the flow of fog and ocean breezes to shape distinct microclimates and makes the region one of the coolest viticultural areas in California. However, warmer daytime temperatures in the inland areas allow a wide variety of winegrapes to be grown. Terrain and climates vary widely, from steep, wind-swept hillsides to rolling inland valley.
22720 El Camino Real, Suite B
Santa Margarita, CA 93453
6985 Ontario RD
San Luis Obispo, CA 93401
2585 Biddle Ranch Road
San Luis Obispo , CA 93401
2212 Corbett Canyon Road
Arroyo Grande, CA 93420
453 Laetitia Vineyard Drive
Arroyo Grande, CA 93420
202 Anacapa St
Santa Barbara, CA 93101
1653 Old Price Canyon Road
San Luis Obispo, CA 93401
3850 Acre Wood Place
Arroyo Grande, CA 93420
6238 Orcutt Rd
San Luis Obispo , CA 93401