Click on the name of a Wine Region to see a list of wineries for that specific region.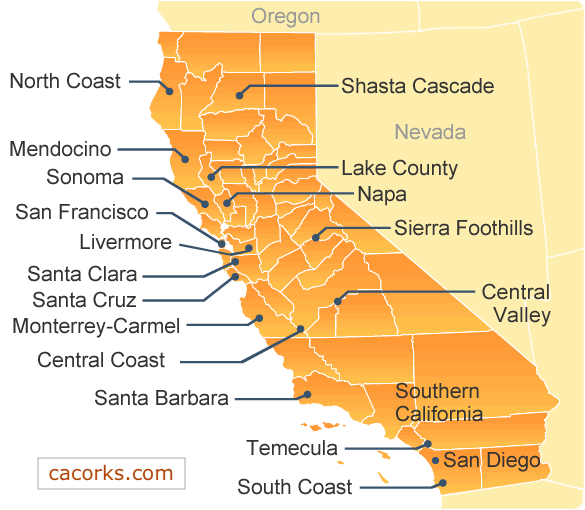 California's wine country is as diverse as the people and wines that are a part of the Golden State.
With vineyards as far south as San Diego and as far north as the Oregon border, California's wine growing areas cover more than 700 miles and includes more than 100 American Viticultural Regions (AVA's).
A recent report indicated that California currently accounts for nearly half, 3,754 the 8,806 wineries bonded in the United States in 2012, and the number of wineries has grown significantly in the past 10 years. For example in 2002 there were only 1,704 bonded wineries in California and 3,469 in the united states.
Wine Grape-Growing Regions
Each region produces exceptionally diverse wines, with unique personalities and characteristics derived from the climate, soils and of course the people that produce the wines. The diversity of the various California Wine Trails, terror and the winemakers means that California produces wines for every palate.
It seems like nearly everyone wants to separate grape-growing in California into areas or regions a little bit differently. CaCorks has done similarly in that the goal is to demonstrate and help our readers to get a clear picture of just how much there is to do so as to enjoy oneself among the many California Wine Trails up and down the state. While we have worked to break up the wine regions into a bit smaller packages here are the basic Wine Grape-growing Regions of California.
Wine Grape-Growing Regions
Central Coast - The state's Central Coast area, including Santa Barbara, Paso Robles, Monterey and Santa Cruz, offers cooling fog and afternoon breezes that are perfect for slow-ripening pinot noir, chardonnay and other fine varietals.
North Coast – The vineyards of California's northern coast, which includes Napa, Sonoma, Lake, Marin, Mendocino Counties, and more, are known the world over for their exquisite wines.
Sacramento Valley – The valley of Sacramento boasts flavorful grapes thanks to its Mediterranean-style climate. You'll find thriving vineyards throughout Lodi, Sacramento, Yolo County, Solano County, Stockton and Clarksburg.
San Joaquin Valley – Known as the state's fruit basket for its agriculturally rich valleys, vineyards in Modesto, Fresno and Madera are known for the dramatic fruitiness of their wines.
Sierra Foothills – The vineyards of the Sierra Foothills, which include the regions of El Dorado, Calaveras, Placerville, Murphys, and Amador, are planted in elevations of up to 3,000 feet.
South Coast – Southern California vineyards take advantage of the state's warm days and cool, misty nights. Notable wine-growing areas in this region include San Diego County, Ventura, Malibu, Temecula, Riverside, Cucamonga and Los Angeles.