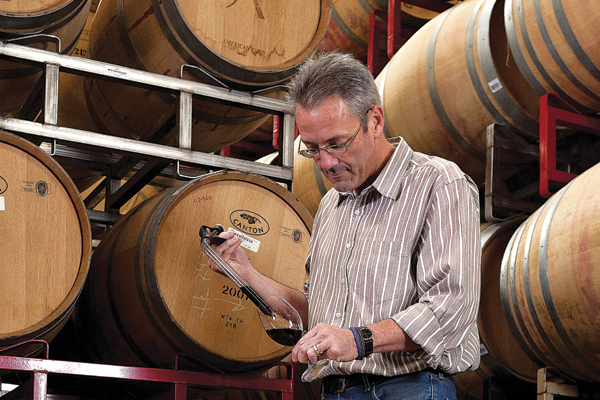 Steven Kent Winery
5443 Tesla Road
Livermore, CA 94550
Steven Kent Mirassou has what you might call wine running through his veins. The Mirassou family settled in Santa Clara County back in 1854 and has a good number of years in the wine industry. Steven Kent Mirassou's earliest memories are connected in one way or the other with his family's business. When Steven was six he would play in the vineyards across the street from the family winery and find things like the skulls of long-dead cows tangled up in weeds. At eight years old Steven run through the fermentation cellar and feel dwarfed by huge redwood tanks and well aware of the rich and mysterious aromas of fermenting Cabernet. At 13 Steven started working disgorging sparkling wine, sweeping out warehouses, and driving forklifts. It was about this time, too, that Steven truly started to understand his family's history in the California wine business, 5-generations of working the land and making wine…longer than any other in America before him.
Being part of a family that settled in Santa Clara County in 1854 and stayed there -made for an eager young man wanting to experience and to see other parts of the world. Steven attended college and graduate school on the East Coast and didn't come back to California to stay for 10 years. In 1992 Steven moved back to California, this time with his wife June, 2 children and another on the way.
Traveling back and forth to Monterey through vineyards and strawberry fields to visit his mother rekindled some old memories deep inside. In 1996, Steven joined his father, and they started the Steven Kent Winery in Livermore Valley. The very first wines from this then new winery were very well received and were proof both Steven and his father that the Livermore Valley was as ideally suited as any growing area in the world to produce world-class Bordeaux varietals. Over time their brand grew, and soon Steven started making more and more different wines.

The extraordinary quality of the 2007 vintage was wonderful and that was the year Lineage was born. Lineage is the wine that serves as Steven Kent Winery's offering to the pioneering works that the previous generations of his family and a challenge to generations to come of America's oldest winemaking family to create ever-greater wine. The Steven Kent Winery produces Cabernet Sauvignon, and Bordeaux varietals.