Photo by WikimediaImages Pixabay
Sonoma County, known for its picturesque landscapes, charming small towns, and world-class wineries, is a haven for wine enthusiasts and food lovers alike. This Northern California gem has overcome challenges like devastating wildfires, emerging stronger and more vibrant than ever before. With its ever-evolving food and drink scene, Sonoma County offers a delightful experience to visitors, whether they are first-time explorers or returning guests. In this comprehensive guide, we will take you on a journey through Sonoma County, highlighting the best wineries, restaurants, and attractions to help you plan an unforgettable trip.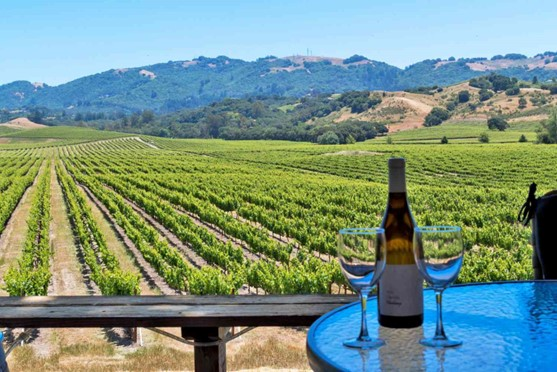 Image Source: Akira Yuan / EyeEm/Getty Images
Day 1: Discovering the Beauty of Sonoma County
Check-in at MacArthur Place Hotel & Spa
Kickstart your Sonoma County adventure by checking in at the luxurious MacArthur Place Hotel & Spa. Located just outside Sonoma Plaza, this historic hotel has been a local institution for over 125 years. Recently renovated, the hotel offers modern and cozy rooms equipped with thoughtful amenities. Snack on complimentary local chocolates and olive oil potato chips, pamper yourself with lavender sheet masks, or indulge in an outdoor shower with Grown Alchemist soaps. MacArthur Place Hotel & Spa ensures a memorable stay, with nightly surprises like warm cookies or bath bombs.
Embark on a Wine Excursion with Bohemian Highway
For a unique wine-tasting experience, book a day trip with Bohemian Highway Travel Company. Their knowledgeable local guides will pick you up at the hotel in a retro Land Rover and take you on an off-the-beaten-path journey through the region. Explore Sonoma wineries and enjoy exclusive tasting appointments that are otherwise hard to come by. Whether you choose to visit multiple producers or immerse yourself in an in-depth experience with one winemaker, Bohemian Highway offers a truly memorable wine tour. Don't forget to savor a gourmet picnic in the vineyards or enjoy a delicious meal at a winery.
Visit Hudson Ranch
Nestled in the rolling hills of the Carneros District, Hudson Ranch is a must-visit destination for wine enthusiasts. With over 40 years of grape-growing experience, this picturesque ranch supplies reputable wineries with top-quality grapes. While only 200 acres are dedicated to vines, the property spans over 2,000 acres, preserving nature, ranching, gardens, and olive groves. Hudson Ranch produces a range of wines, from French oak-aged Chardonnays to flavorful red blends. Since opening its tasting rooms and facilities in 2018, Hudson Ranch has become a sought-after winery. Remember to make an appointment in advance to ensure a seamless visit.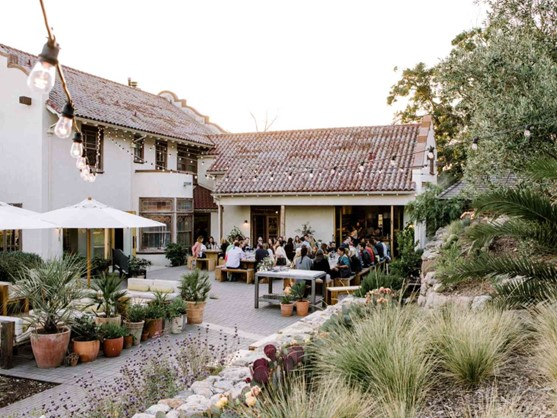 Image Source: Stephanie Rudy
Indulge in a Scenic Lunch at Scribe Winery
Immerse yourself in the beauty of Scribe Winery, a place that has captured the attention of many through its stunning California hacienda-style architecture. As you arrive, you'll be greeted with a glass of rose and escorted to a table under their shaded veranda. Scribe Winery boasts a full kitchen, offering a delightful lunch experience. Enjoy dishes like perfectly roasted chicken with za'atar, house-made cucumber pickles, and a creamy potato salad with chive blossoms. The food at Scribe Winery is simple yet flawless, showcasing flavors inspired by Mediterranean cuisine. Make sure to secure a reservation in advance, as this popular spot fills up quickly.
Recharge with a Spa Treatment at MacArthur Place
After a day of wine tasting and culinary delights, treat yourself to a rejuvenating spa treatment at MacArthur Place's Uppercase Tea Spa. This local, women-run company provides exceptional single-origin teas for the property, along with tea-infused essential oils for the spa. Begin your massage or body scrub with a meditative tea ceremony, followed by relaxation in the garden-enclosed pool or cozying up by the outdoor fire pits. The Uppercase Tea Spa at MacArthur Place ensures a blissful and tranquil experience, allowing you to unwind and recharge.
Savor a Delectable Dinner at Layla
For lunch or a beautiful dinner, what are the best restaurants Sonoma Square can offer? Perhaps finish your first day in Sonoma County with a memorable dinner at Layla, the renowned restaurant located within MacArthur Place. Executive chef Cole Dickinson, who has worked alongside reputable chefs like Wolfgang Puck, creates playful and fresh Mediterranean dishes in a stunning setting reminiscent of a Nancy Meyers movie. Layla's menu goes beyond traditional Mediterranean fare, incorporating flavors from Spain, Portugal, and France. Indulge in dishes like the Crispy California halibut sandwich or explore their selection of delectable dips and spreads. The food at Layla is creative, accessible, and perfectly complements the vibrant Sonoma County culinary scene.
Unwind at The Bar at MacArthur
Adjacent to Layla, you'll find The Bar at MacArthur, a sleek and stylish establishment perfect for a nightcap. This late-night spot is known for its expertly crafted cocktails and sophisticated ambiance. Previously adorned with cowboy-themed decor, The Bar at MacArthur has undergone a stunning transformation, featuring plush velvet armchairs and modern brass light fixtures. Enjoy a well-crafted cocktail and savor the vibrant atmosphere of this popular Sonoma County bar.
Day 2: Exploring the Charms of Sonoma County
Start your Day with Breakfast at The Porch
Begin your second day in Sonoma County with a visit to The Porch, a sunny all-day cafe and market conveniently located near MacArthur Place. Even if you're not staying at the hotel, you can still enjoy a delicious cup of coffee and delectable pastries. The Porch offers gluten-free options, including the buttery Maple Bar, which is a must-try. Their creative coffee menu, curated by Layla's chef Cole Dickinson, presents unique flavors like the Espresso and Tonic with lime or the Brown Butter Bullet. Treat yourself to a delightful breakfast before embarking on your Sonoma County explorations.
Discover Unique Shops in Downtown Sonoma
To truly experience the local charm of Sonoma County wines and wineries, take a leisurely bike ride into downtown Sonoma. MacArthur Place offers complimentary electric Blix Bikes, complete with a basket for your shopping bags and a bottle of wine. Explore the historic Sonoma Plaza, where you'll find a variety of shops and boutiques. From clothing stores to home decor shops, there's something for everyone. Don't miss Summer Vine for home decor, Tiddle E. Winks Vintage 5 & Dime for vintage goods, and the Arts Guild of Sonoma for handmade jewelry. Enjoy the vibrant atmosphere of downtown Sonoma as you browse through the unique shops.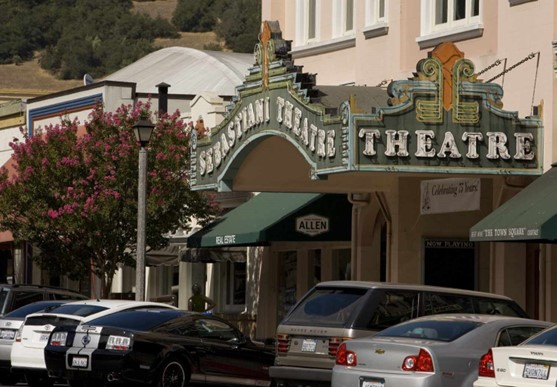 Image Source: George Rose/Getty Images
Taste Exquisite Wines in Downtown Sonoma
After exploring the shops, it's time to indulge in some Sonoma County wine tastings at the wineries located in downtown Sonoma. Begin your tastings at Pangloss Cellars, a stunning tasting room housed in a renovated historic building. Pangloss offers diverse wines that are exclusively available for tasting at this location. Be sure to try their full-bodied pinot noirs from Anderson Valley. For a truly unique experience, book an appointment at the Three Sticks Adobe. Apart from offering phenomenal wines, this winery showcases a beautiful adobe tasting room designed by Ken Fulk. Adorned with handmade Mexican tiles and a mix of custom and antique furniture, Three Sticks Adobe provides an unforgettable wine-tasting experience.
Treat Yourself to Sweet Scoops Homemade Ice Cream
Before heading back to the hotel, make a stop at Sweet Scoops Homemade Ice Cream. Located on the northeast corner of Sonoma Plaza, this delightful ice cream shop offers a rotating menu of over 200 flavors made with fresh, local ingredients. Indulge in the refreshing Mint Chip, which combines the flavors of fresh garden mint and sweet cream with generous chunks of dark chocolate. For those with dietary restrictions, try the dairy-free pistachio ice cream made with coconut milk. Sweet Scoops is the perfect place to satisfy your sweet tooth and cool off on a warm Sonoma County day.
Enjoy Authentic Mexican Cuisine at El Molino Central
For a taste of authentic Mexican cuisine, venture to El Molino Central in neighboring Boyes Springs. This local taco shop offers outdoor patio seating and a vibrant atmosphere. Indulge in their massive enchiladas or savor their guacamole, which is made to order based on the number of avocados you request. While El Molino Central only serves beer and wine, they allow you to bring your beverages, ensuring a delightful dining experience.
Experience Live Music and Handcrafted Cocktails at Starling Bar
As you make your way back toward downtown Sonoma, make a stop at Starling Bar for some live local music and handcrafted cocktails. This New Orleans-inspired bar offers "backyard-to-table" cocktails made with seasonal ingredients from their garden. Enjoy drinks like the Meyer Lemon Smash or the Li Hing Margarita, which features Li Hing plum syrup and salted plums. If you're feeling hungry, indulge in their wood-fired pizza for a satisfying meal. Starling Bar offers a lively and engaging atmosphere, making it the perfect spot to end your Sonoma County adventure.
What wines are Sonoma best known for?
Sonoma is known as one of the most important wine regions in California. The region is home to a variety of different types of wines, from dry to sweet, and from light to full-bodied. Some of the most well-known Sonoma wines include:
• Pinot Noir
• Chardonnay
• Cabernet Sauvignon
• Zinfandel
• Merlot
Just how many wineries in Sonoma Valley are there?
Just located 45 minutes north of San Francisco this area is renowned for its more than 400 wineries, more than 100 organic farms, and approximately 50 miles of beautiful rugged Pacific Coast. Just to mention a few, Ledson Winery has an impressive estate, a deli market, and an excellent wine-tasting experience. Gary Farrell Vineyards and Winery will please both Red and White wine lovers. For more information visit our Sonoma Wine Region in our directory.
Sonoma Winery Map - Need a map to find your way around?
Click the link above to get your PDF map of Sonoma Winery Map from Sonoma.com
Sonoma County, with its breathtaking landscapes, world-class wineries, and exceptional culinary scene, offers a truly memorable experience for visitors. From the charming town of Sonoma to the scenic vineyards of Dry Creek Valley, Sonoma County has something to please every palate. Whether you're a wine enthusiast, a food lover, or simply seeking a relaxing getaway, Sonoma County is sure to captivate your senses and leave you with unforgettable memories. Plan your next trip to this Northern California gem and indulge in the delights of Sonoma County.