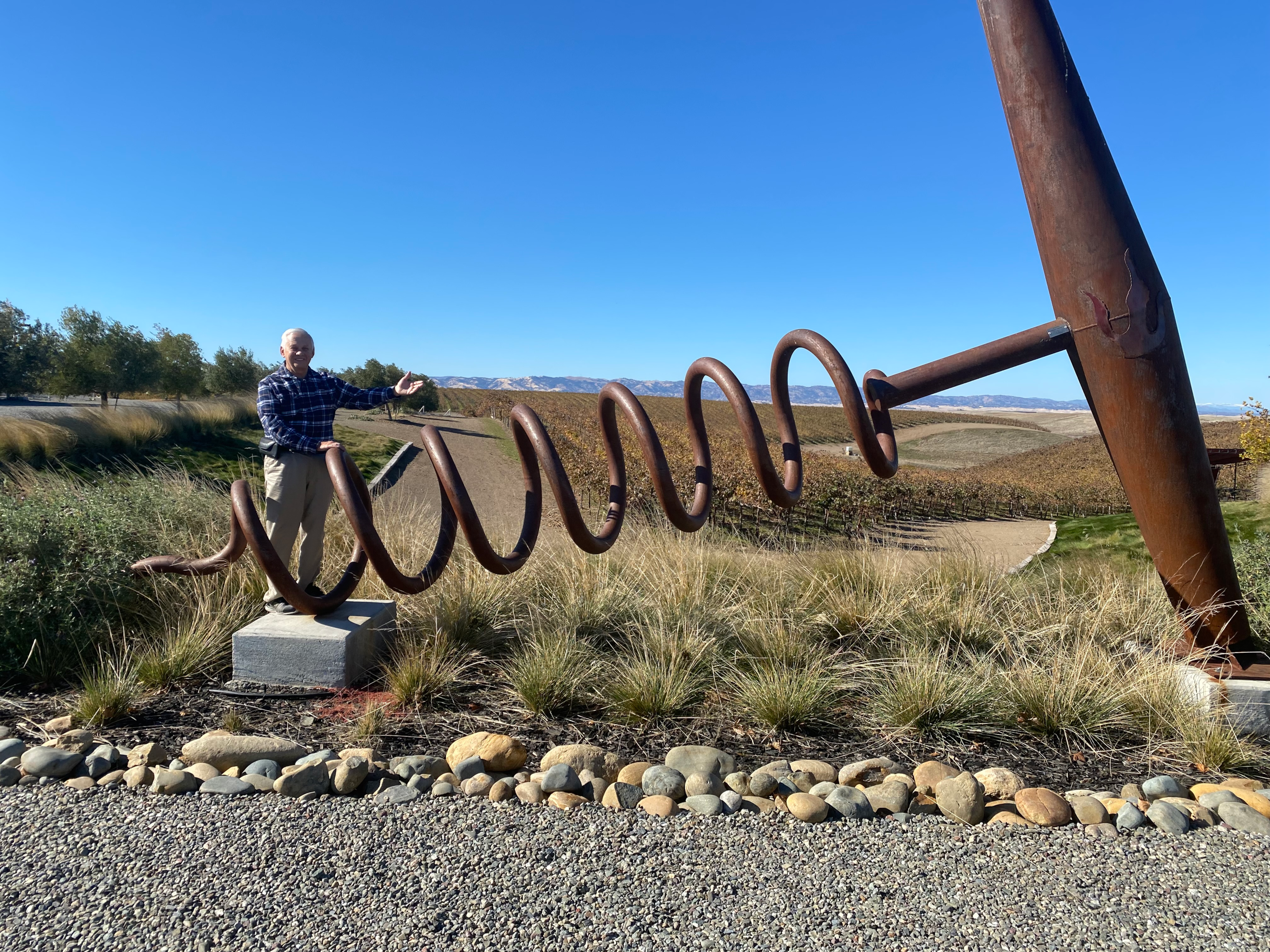 Pulling the Corks and Vino Vargas - Paso Robles Wines and Wineries
Vino Vargas is located in the rolling hills of the Northwest Paso Robles region. Vino Vargas is a modern winery, both an efficient example of winemaking and a warm place for you, your friends, and family to discover some truly unique wines. What can you expect when you arrive for your tasting appointment? While it will be personal, educational, it will also enhance your appreciation for the winery experience. This means that will you get to interact with the winery's winemaker, Pedro or the sommelier Vicky, or both. What a delight to really talk about the wines, winemaking philosophy or just sit back and enjoy the magnificent views as you leisurely enjoy your visit.
Vino Vargas produces small lot, single vineyard wines. All the wines produce at Vino Vargas are hand-crafted to achieve truly remarkably well-balanced wines with the best fruit that Paso Robles has to offer. The winery is family owned and operated, to ensure that you receive personal service and attention among the beautiful views of nearby vineyards.
Winemaker Pedro Vargas works with a variety of grapes from Paso Robles and the premier wine regions of California to craft luxurious single-vineyard wines. Each wine has a unique name and unique story. Wines produced by Vino Vargas have garnered awards from prestigious competitions such as the San Francisco Chronicle International Wine Competition and the Sunset Magazine International Wine Competition.
A Good Time to Visit
If you really want to get the most out your visit here is a tip. Starting as early as August and through to early November, visitors can see the process and smell the aromas of winemaking as it happens. Learn what "crush" means, taste fermenting juice right out of the tanks and get your hands dirty with a little purple. This is great time to learn and observe the winemaker Pedro Vargas and his team and their endeavors to produce the next wines to delight your palate with future vintages. However, you don't have to wait until August or after to visit and enjoy their wines.
The Vino Vargas collection is exquisitely crafted by a team of artisans that are truly committed to bringing you the best wine possible. With the use experience, art and science this winemaking team converts grapes into wine. Meticulous tasting during the aging of each wine guides the vital food, beverage and dessert pairings which complement each Vino Vargas wine. Whether in the vineyard, the cellar or the bottling room, each person is focused on making your bottle of Vino Vargas amazing from start to finish.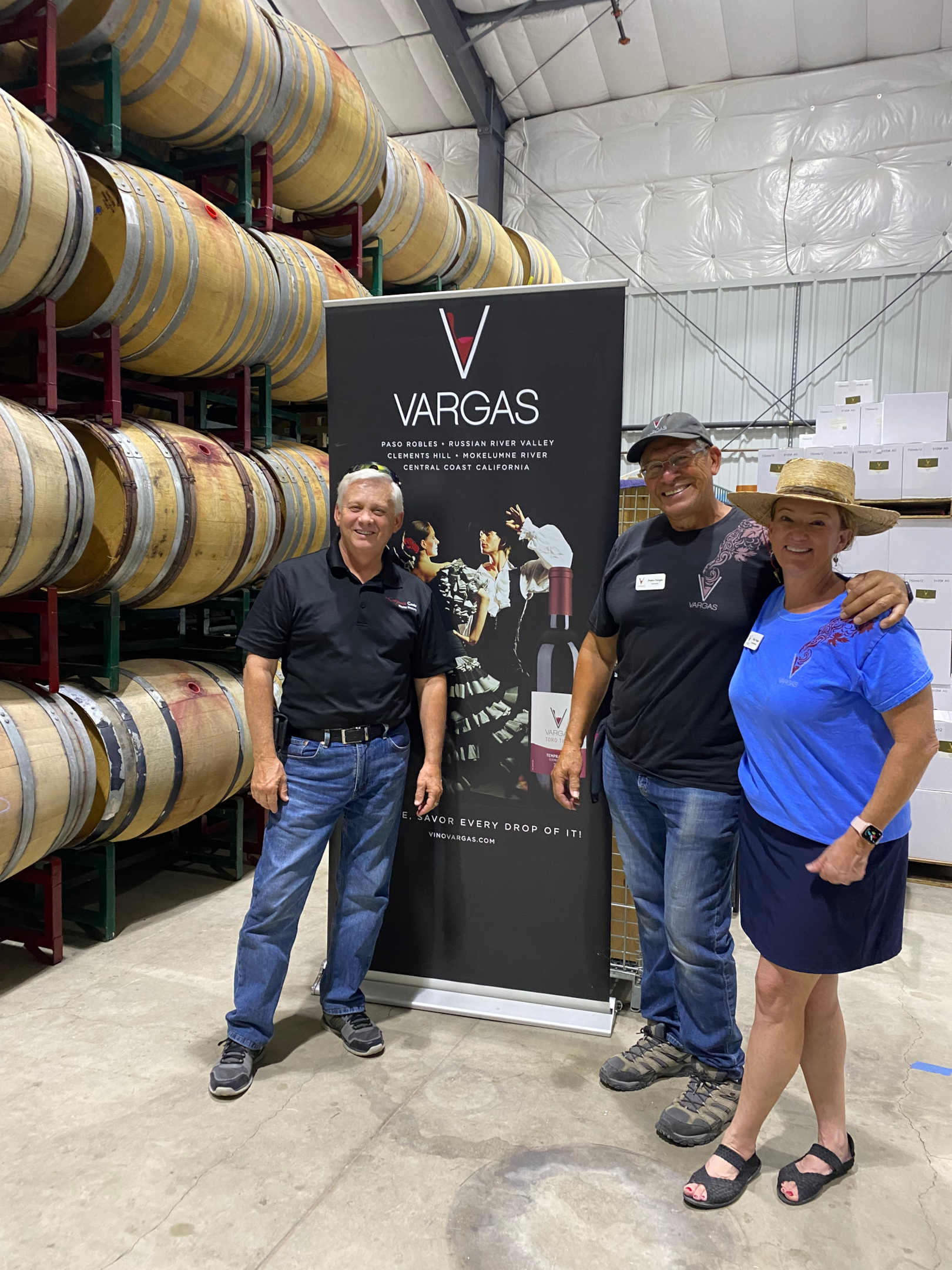 Pedro Vargas
"I love making wine! To me it's as enjoyable as playing my guitar or taking a photo of a beautiful sunset. Being able to coax wine out of a ton of grapes is really a labor of love. I truly feel humbled that people seek out our wines and it is a great privilege to be able to offer them to you."
After growing up in Biggs, a small agricultural town in Northern California, Pedro left to become an electronics engineer. The original goal was to build electronic musical instruments which had long been a passion for him. But armed with an EE degree he rapidly moved into marketing and business development roles for major Silicon Valley companies. After a long successful career of building technical businesses including several of his own startups, he yearned for a more balanced life. The trajectory of a career switch converged rapidly with studies and a winemaking education from UC Davis. The first chapter of his new career as winemaker started with Pedro making wine for small clients (a couple of barrels) and some very large ones (20,000 cases). At the same time the nascent Vino Vargas brand was launched and had an immediately following.
Wanting to get back to the country, Pedro and Vicky searched far and wide and finally picked Paso Robles as their next home. Paso Robles wines are gainng more and more recognition, what a delightful location for this winemaking couple to call home. Today, the Vino Vargas winery is where Pedro and Vicky along with their team create memorable wines that represent some of the best that Paso and California grapes can become in your wine glass.
Now that he has a little more time available, Pedro even gets to play music occasionally. That is when he is not in the middle of all that goes on from harvest and time of crush.
Vicky Vargas
As a wine sommelier, Vicky's goal is to help people enjoy wine. Enhancing their experience with wine is an individual thing and Vicky truly enjoy both guiding a new wine drinker or introducing a seasoned aficionado to a new wine.
It's a long way from high school in Eureka California to a marketing career working for some of the largest hardware and software tech companies in the world. But armed with an MBA from Santa Clara University and a BS from Cal Poly, Vicky set out to the mecca of tech for a long career.
Silicon Valley was also an ideal location to visit wine country in Napa, Sonoma, Livermore and Lodi. With each visit Vicky took in the wine, the history and quickly decided that she liked this. On further visits to Mendoza, Argentina, and along the Rhine in Europe it became clearer to Vicky and her husband Pedro that they wanted to make winemaking their life. This desire directly fueled her accomplishment as a certified sommelier with the prestigious French Culinary Institute. Finally, with long family roots in San Luis Obispo County, Paso Robles became the ideal place to launch a second career in wine.
Now with Vino Vargas, Vicky uses her wine knowledge to create memorable wines and all of the pairings that help to set them apart.

Vino Vargas "Si!" 2018 Petite Sirah
California wine tasting with Vino Vargas - Winemaker Pedro Vargas
I have known Pedro and Vicky Vargas for some years. I have tasted some of their wines at events and they supported a sort of a wine club project I did a few years ago. I wasn't until the summer of 2021 that I finally drove up their long drive to their winery and tasting room. Long over-due I know but I did finally make my visit to this family winery located in San Miguel, just a few miles north of Paso Robles.
This 2018 Petite Sirah is one of a couple of bottles I brought back home with me. I enjoyed a good number of Pedro's wines, but the truth be told, I have been purchasing, and or receiving wines faster that I can drink or review them. So, I selected two that I knew I wanted to do wine reviews for. The two reds I selected were Pedro's "Matador" a 2019 Malbec and this his 2018 Petite Sirah named "Si!" or yes!
"Si!" is a delightful wine! Think black violet-like in color. Aromas of pomegranate, rose hips, and dark chocolate with a chewy, crisp, dry-yet-fruity full body and a warming, complex, and a slight tobacco finish. This 2018 bottling has resulted in a very decadent and luxurious Petite Sirah with desirable notes of fruit, spice, and a toasty hint of tobacco. A dense and tannic wine with lifted and lively aromatics the balance and satisfy, a stylish pairing for grilled meats.
Conventional wisdom of what Petite Sirah is supposed to be. Perhaps like me, you have tried a few Petite Sirah wines to find them to be highly tannic, overly chewy, or just too, too much for your palate! Not so with this bottle of wine. While having a dense finish this Petite Sirah that winemaker Pedro Vargas has produced is an exceptionally balanced wine.
Pedro harvested his fruit at around 25 brix and fermented at 75 degrees which took about seven days to complete. After settling for about a week the new wine was placed in barrels. The barrels were French Oak with a heavy toast and the wine was transferred into approximately 30 percent new oak barrels with the balance or the new wine resting in neutral oak. The result is a delightful, black violet in color and a well-balanced wine.
A Little background on Petite Sirah
The story of Petite Sirah begins in 1880 in Montpellier, France, where Dr. Francois Durif cross-pollinated a Syrah vine resulting in a brand-new wine grape which the professor named after himself: Durif. This grape never really took hold in French vineyards, but in 1884 cuttings were brought to California and planted some at the Mission San Jose in Fremont. Since that time Durif got lost in California's early years of interplant if vines throughout the state along with other dark-skinned grape varieties; Zinfandel, Carignan, Mourvèdre, and Syrah. It almost certainly got its new name because people noticed its similarities to Syrah. This offspring of Syrah has smaller berries. As to why the "y" became an "i" seems to still be a mystery.
Cabernet Sauvignon continues to grow in popularity. However, over the past ten years or so, there has been a resurgence in the popularity of Petite Sirah in California as plantings have continued to increase.
Be sure to visit California Corks website at www.cacorks.com to visit our California Winery Directory and our blog section for our wine reviews and vineyard news..
Vino Vargas is open and ready to receive you for wine tasting by appointment. The winery is open Friday, Saturday, Sundays and Monday by appointment. The winery is located not far from Highway 101 at 950 Indian Dune Road, San Miguel, CA 93451