Each year, tourists visit wine regions throughout California to explore the state's more than 3,000 wineries and the diverse array of cultural attractions. From gardens, art museums, great seasonal cuisine and artisan foods to natural hot springs, spa treatments, beaches, redwood groves, golf, and boutique shopping. California Wine Trails offers travelers many diversions between visiting the wineries and enjoying the wines you will find along the way.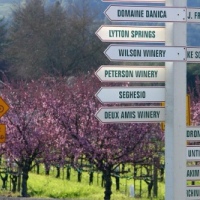 Each year, tourists visit wine regions throughout California to explore the state's more than 3,000 wineries and the diverse array of cultural attractions. From gardens, art museums, great seasonal cuisine and artisan foods to natural hot springs, spa treatments, beaches, redwood groves, golf, and boutique shopping. California Wine Trails offers travelers many diversions between visiting the wineries and enjoying the wines you will find along the way.
With so much to see and to choose from, a few of the state's regional winery associations have shared their "insider" tips for having great experiences while touring their wine regions. We have captured some of these suggestion here for you at www.cacorks.com. The following are recommendations for three ideal days in Amador County, Lodi, Monterey County, Napa Valley, Paso Robles, Santa Cruz County and Sonoma County from these travel and hospitality experts. In addition our directory will continue to update you on quaint Bed & Breakfast, Inns, travel and tours and more.
AMADOR
Snugly and comfortably situated in the western foothills of the Sierra Nevada mountains, two hours from San Francisco, Amador County boasts some 35 small family wineries, some of California's finest old-vine Zinfandels, gorgeous scenery and many captivating Gold Rush-era attractions.
Suggestion: Begin your tour in Jackson visiting the wonderful Amador County Museum, which boasts a treasure trove of memorabilia from the Gold Rush days. Then, drive east to Pine Grove to visit Indian Rock Grinding State Park, located in a small valley 2,400 feet above sea level. From Pine Grove, travel northeast to a charming little Gold Rush town of Volcano for dinner and a night's stay at the historic St. George Hotel.
On your second day, explore the Black Chasm Caverns in Volcano and then head west to Sutter Creek to savor its quaint Main Street shops and Gold Rush-era buildings. Enjoy a casual lunch and local wines at Susan's Wine Bar, then visit Sutter Ridge Vineyards to taste one of California's few Tempranillos. What about visiting a gold mine? If that would be of interest to you be sure to book a tour of the Sutter Gold Mine. From Sutter Creek, head north to Plymouth, gateway to the wineries of the Shenandoah Valley. Join the locals for some delicious ribs and Zinfandels at Incahoots, than bed down at the Plymouth House Inn.
On your third day, go grab a snack at the gourmet Amador Vintage Market in Plymouth before setting off for the gorgeous scenery and charming wineries of the Shenandoah Valley. Be sure to stop at Montevina, one of California's venerable producers of classic old-vine Zinfandel, and Shenandoah Vineyards, a producer of an array of top-value Amador wines. Also check out Avio, a new winery specializing in Italian varietals, and Dobra Zemjla, a Amador producer of "Big Reds."
LODI
Lodi Wine Country is a hidden jewel in California wine country. Begin your journey with the glass of wine you are handed as you check into the quaint Amorosa Inn and Gardens at Vino Con Brio Winery. Head to downtown Lodi, strolling along boutique and antique shops as you make your way to School Street Bistro, owned by local winemaker, David Akiyoshi and wife Trisha.
Spend the next day tasting wine in Lodi Wine Country, making sure to stop at Jessie's Grove Winery, a historic farm property highlighting the history of Lodi. Then head to Phillips Farms so you can experience the Michael-David Winery and grab a snack at the farm fresh café. Next, stop by Chocoholic's Chocolate Factory in Clements to practice chocolate making first-hand with self-guided tours and chocolate tasting in their gift shop. Be sure to also check out the thousands of acres of nature preserves surrounding Lodi. A paradise to avid birders and nature lovers, the river-rich basin and marshes are home to hundreds of species of birds, mammals, amphibians, reptiles, and fish. The Cosumnes River Preserve is a favorite among visitors and offers year-round hiking trails and an educational visitor center. During the winter months, the Sandhill Crane come to nest. Lodi celebrates the arrival of the crane each November with the Sandhill Crane Festival featuring nature-related educational classes, bus tours and entertainment. Oh, Lodi is also the host to "Zinfest", an event where you can enjoy the handcrafts of locals artists, taste the wines and food of Lodi.
Spend the next two nights at "WIne & Roses", so you can experience seasonally flavored cuisine, beautiful Tuscan appointed guest rooms and luxurious spa facilities. Just a short walk from your room at Wine & Roses is the interactive Lodi Wine & Visitor Center where you can walk through the demonstration vineyard, learn about wine-grape growing and winemaking, find out more about a number of local wineries and everyone's favorite part—taste a selection of over 200 Lodi wines. Of course there are many more wineries to be discovered during you visit to Lodi and her wine trail.
MONTEREY COUNTY
Each wine-growing area within Monterey County's 40,000 acres of grapes offers unique wine tasting experiences. Start your first day with the convenient tasting venues throughout the popular vacation areas of Monterey and Carmel-by-the Sea. From there, check out the Monterey Bay Aquarium, which Zagat Survey rated as the nation's top aquarium and the third best attraction in the U.S. Next, get ready for some excitement with kayaking or whale watching. End your day with fabulous cuisine at one of the restaurants near Cannery Row while watching a beautiful Monterey Bay sunset.
On your second day, visit the intimate tasting rooms in the Carmel Valley Village. Seek a little inspiration in Big Sur, or by walking the labyrinth near the mouth of Carmel Valley. Mid-afternoon, go tide pooling along the rocky shoreline, horseback ridding over open meadows, or hike in one of the many nature preserves. Explore Monterey County's ninety-nine miles of Pacific coastline and don't forget the world-famous 17 Mile Drive. Then, treat yourself to one of the many pampering packages at one of the world-class spas, such as Pebble Beach or Quail Lodge. Finally, golf at one of these resorts or one of over 10 other golf courses in the area.
Head over into the Salinas Valley on the third day. First, speed enthusiasts will want to take in a race at Mazda Raceway Laguna Seca. Then literature buffs can visit the National Steinbeck Center in Salinas to experience a journey through John Steinbeck's world, experiencing Steinbeck's works and philosophy through interactive, multi-sensory exhibits for all ages and backgrounds, priceless artifacts, entertaining displays, educational programs, and research archives. Wrap up the afternoon with a tour along River Road and visit one of the many new tasting rooms that have recently opened. End the evening by staying at The Inn at the Pinnacles, located adjacent to the Chalone Winery. Check in your bags at The Inn and then hike through the Pinnacles Monument. End your evening by listening to the coyotes and eating a gourmet meal at this exclusive inn. Napa Valley
NAPA
Napa Valley as a world class wine-growing region that was the first recognized AmericanViticultural Area (AVA) in California is well-known. Though most known for full-bodied, signature Cabernet Sauvignons, the 500 plus wineries in the Napa Valley produce a range of wines including Chardonnay, Pinot Noir, Zinfandel, Riesling, Pinot Grigio, Sauvignon Blanc, Cabernet Franc, Malbec, and of course Cabernet Sauvignon among others.
Where to start with so much to do? Perhaps start your your first day by visiting a winery off the beaten path. Perhaps the Hess Collection on Mt. Veeder where within its three-story winery houses a renowned collection of modern art. Have lunch at Domaine Chandon's restaurant with sparkling wines from this well-known winery in Yountville. On Highway 29, visit the Robert Mondavi Winery in Oakville for an educational tour. Unwind overnight at the Meadowood Napa Valley Resort, site of the annual Auction Napa Valley, or one of the many bed and breakfast inns dotting the valley.
Day two begins with exploring wineries along or near the Silverado Trail, such as Groth, Duckhorn, Clos du Val, Stag's Leap Winery, Rudd or Miner Family Vineyards. Make a reservation to do a wine blending seminar at Conn Creek Winery. Enjoy a gourmet picnic lunch on the lawn at V. Sattui Winery's delicatessen, then take a break from wine tasting and visit the charming town of St. Helena for some shopping. Dean and De Luca is a purveyor of wine country eats and accessories and there are several unique antique stores and boutiques.
Begin day three with a visit to the historic Rhine House of Beringer Vineyards in St. Helena. Next, take a tram ride up to Sterling Vineyards' hilltop winery and take in the view of Napa Valley on their patio. Travel to nearby Calistoga to shop or visit one of the several historic spas for a mud bath, massage or natural hot springs soak. End this day with a cooking class and dinner at the Culinary Institute of America. Be sure to review the many out of the way wineries here in CaCorks directory for a special treat.
PASO ROBLES
Paso Robles Wine Country is located about half way between San Francisco and Los Angeles along California's Central Coast. The region is home to 170 wineries and more than 26,000 vineyard acres, making it California's third largest wine region. More than 40 wine varieties are grown and produced here. From Cabernet Sauvignon, Syrah and Zinfandel to Viognier, Roussanne and Marsanne, you can find a wide selection of wines.
Begin your Paso visit by exploring the wineries as well as the community. Between winery visits, take a stroll through the downtown City Park, outlined with boutique shopping, olive oil tasting, and several fine dining restaurants.
On the second day, take a quick 30-minute trip to the coast; just 30 minutes puts you on the sandy beaches where you might spot elephant seals. Next, tour the majestic Hearst Castle San Simeon State Historical Monument. Choose between five tours, ranging from the basic "Experience Tour" to the upper floors and gardens to a special tour at night. Tour reservations are required to guarantee the tour, date, and time desired.
On your third day, check out the WineYard at Steinbeck Vineyards, where you can discover Paso Robles Wine Country aboard a vintage jeep. The wine-grape growers lead this excursion through the vineyards and talk about planting a vineyard and the growing season.
SANTA CRUZ COUNTY
With easy access to the San Francisco and San Jose airports, the Santa Cruz Mountain tasting rooms in Saratoga and Los Gatos are a good place to start your tour. Also, stop by nearby historic Cooper-Garrod Vineyards, Savannah Chanelle, and Testarossa. Hakone Gardens, an 18-acre Japanese-style garden and koi pond, is along the way, and one can enjoy a concert at Montalvo Arts Center and dine at Sent Sovi before a comfortable overnight stay at Saratoga Inn.
Day two takes you up and over the Santa Cruz Mountains. Putter along Bear Creek Road, enjoying David Bruce Winery and the Chateau at Byington. Cross over Highway 17 to explore Summit Road and a tasting at Burrell School. Next, pick up lunch supplies at the Summit Store before venturing over the other side to Soquel. Enjoy dinner at charming Cafe Sparrow in Aptos or Shadowbrook in Soquel near the coast, before cozying up in the quaint Historic Sand Rock Farm Bed & Breakfast.
Start your third day with a walk on the beach prior to the tasting room and gallery at Bargetto Winery. Plan on lunch at Aldo's on the Santa Cruz Wharf or one of our favorite places for a wonderful hamburger Carpo's in Soquel and then head to Storrs Winery to sample more wines. Next, spend some time sipping the sparkling wines at Equinox. Finish your day on the Santa Cruz Wharf with a visit to see the sea lions and do wine tasting with Beauregard Vineyards.
SONOMA COUNTY
Sonoma County's world famous and diverse wines would make this premium wine-growing region an unbeatable destination in itself, but it also offers an easy weeks worth of amazing visitor experiences that have nothing to do with wine—a rare combination.
Begin day one of your visit to Sonoma in the Russian River Valley tasting the area's Pinot Noirs and Chardonnays. Work your way up to the lovely town of Healdsburg, where you can enjoy boutique shopping and a leisurely lunch in the town square. Of course there are more wineries to visit in and around Healdsburg. Spend the afternoon out at the coast, stopping along the way in Dry Creek Valley to sample some wonderful Zinfandel's. At Bodega Bay, walk along the beach, go whale watching, or just enjoy the view. End the day with a fresh seafood dinner and an ocean sunset. Stay in one of the area's many bed and breakfast inns or drive back to Healdsburg for a laid-back luxury hotel experience.
Day two - enjoy hiking in Jack London State Park and view the museum dedicated to this writer, before experiencing yet another distinctive wine area, Sonoma Valley, known for its Merlot and Cabernet Sauvignon. Tour vineyards, vibrant gardens and buzzing wildlife sanctuaries at Benziger Vineyards, which offers visitors a 45-minute adventure in wine-growing via a tractor tram tour of their estate in Glen Ellen. Next take a leisurely drive to historic downtown Sonoma for shopping and restaurants. Unwind at one of the region's numerous spas before spending the night in Sonoma.
Day three - Get up early on your third day to the adventure of hot-air ballooning, or have a more leisurely morning browsing a local farmer's market. Pick up some picnic supplies and head out to a winery in picturesque Alexander Valley for an idyllic wine-country lunch. In the afternoon, enjoy one of Sonoma's more than 20 golf courses, or rent a bike and travel down the region's back roads.
WHATEVER YOU DECIDE
Whatever you decide, remember California wine is all about exploration. Nothing against our most famous regions - Napa Valley's global allure - but what separates the Golden State's wine prowess is the ability to always have something new on the horizon. If 15 years ago the Santa Lucia Highlands seemed like undiscovered country, now we might be looking to the extreme Sonoma Coast. New wineries keep popping up all over the country and California is certainly no exception. We hope that you enjoy www.cacorks.com that you will come back often and tell your friends.