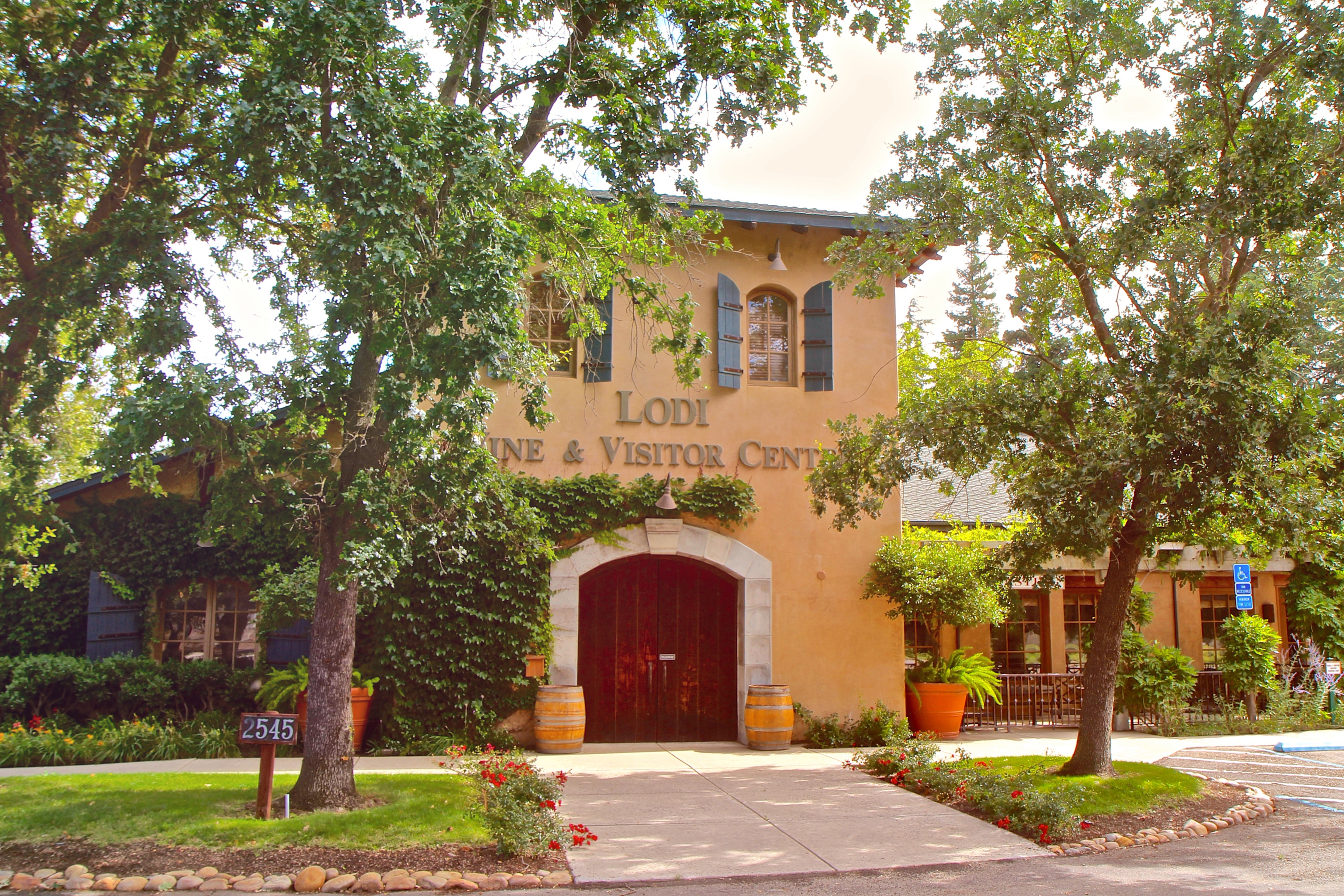 Lodi Wineries: The Ultimate Guide. The Lodi AVA, is part of the larger Central Valley wine region of California. You will find that this little town has a big heart when it comes to wine grapes, wines, and much more. Lodi Wine Country is found directly east of San Francisco Bay and between the cities of Sacramento and Stockton. The west of the region of Lodi lies close to the edge of the Sacramento-San Joaquin counties.
Easy Access
It's simple to get to Lodi Wine Country from just about anywhere in California. Whether you hop on the train from Oakland or Sacramento, drive or book a flight, you will find your way to this Central Valley oasis in no time at all.
Why growing in recognition by wine lovers Lodi is still one of the best-kept secrets in Northern California. This little town is HUGE on Wine, Eats, and rolling out the welcome mat to visitors. My goal is to help those of you who have not visited Lodi to learn why you should have it on your to-do list for one of your upcoming weekend destinations.
Lodi being near the Delta has an excellent impact on wine grape growing and on the wines that are being produced in Lodi. Turns out grapes also really grow well in Lodi Wine Country. As a result, Lodi has become one of the hotspots for wine lovers living in California and guests to the Golden State as well.
Lodi Wines and History
Lodi's winemaking history spans back to its origins dating back to the 1800's. Lodi winemakers and wine grape growers have a pretty good handle on how to care for the vines and produce excellent wine. Whether it be Aglianico to Zinfandel.
For generations, Lodi was more behind the scenes yet a premium supplier of grapes to winemakers around the country. Lodi was recognized as an American Viticultural Area in 1986. Many of the long-time growers began producing their own small-batch wines in addition to newer vintners that joined them. Lodi today boasts 85+ boutique wineries and 70 tasting rooms as well as a faithful following of wine loving individuals.
Just How Big is the Lodi AVA?
The wines produced by Lodi winemakers you will find located 551,000-acre wine growing region of Lodi, CA. The Lodi AVA gained approval in 1986 around the same time many other AVA's in California were made official. Today, those same 551,00 acres, only a little over 100,000 acres are planted with grapes. If you ever thought of building your own wine and winery legacy, Lodi is a great place to get started!
If you want to do some wine tasting in Lodi Wine Country, I encourage you to take a look at our winery directory to help you gain a little more insight into some of Lodi's wineries. This could help you with planning on which wineries to visit.
Nicolini Ranch - Carigan
Nearly 40% of California's premium wine grapes are grown in this region." Lodi-Woodbridge enjoys the perfect environment for wine production. The region is warmed by valley sun during the day and cooled by the Delta breezes at night. Soils rich in minerals give Lodi-Woodbridge wines their unique quality and flavor. Abundant water from nearby rivers allows for consistent quality and quantity from vintage to vintage.
A Great Place to Stop
For me, have lived in California most of my life, and having visited many wine-growing areas large and small this part of California offers to wine lovers a huge variety of wines and styles. I have visited most of those California wine-producing areas I have my expectations of what wine country is. While living in the San Diego area for some years, I would often drive up to visit family in Northern California. Lodi was a great rest stop for my wife and I before continuing our journey. We would on many occasions find ourselves sitting down to eat lunch at Michael David Winery with my first glass of Lodi wine in my hand, not bad at all! Then be off again to visit another winery or two before traveling on.
Michael David Winery has been known for producing wine for others in the Lodi wine region for over 150 years. That fact alone makes one to quickly realize that Lodi is one of the oldest wine regions in California. Michael David was the perfect place to appreciate how local Lodi is. Around me were people having conversations about how much they enjoyed the staff and the great selection of wines- and at a great value.
Lodi Wine Country is refreshingly affordable when you stop to contemplate spending $20 on a burger and $50-$75 on a wine tasting has become the norm for Napa and Sonoma. I have blown some of my friends' minds away with a few blind tastings in the past and I need to do it again soon. Oh! If you love Zinfandel, then you may be no stranger to Lodi's reputation for being the Zinfandel capital of the world. However, Lodi is not limited to growing just the Zinfandel wine grape. The Lodi wine region is a great place to visit many boutique wineries that are producing great award-winning wines.
Getting around in Lodi or, how to enjoy Lodi wineries and wine-tasting rooms
Driving under the influence is a bad idea no matter where you are, even in wine country. So do yourself a favor and take advantage of local transportation service or one in your group can serve as the Designated Driver. While visiting a wine country destination you can often book a Wine Trolley or shuttle, hire a limousine, or, hire a designated driver to drive your car. One suggestion is Destination Drivers in Lodi.
LODI GROWS MORE THAT JUST ZINFANDEL
While Lodi is the Zinfandel growing Capitol, there is a bounty of wine grapes that call Lodi home. If anything, the Lodi Viticultural Area is prolific. The count now is over 125 grape varieties planted in the region: all variations of Vitis vinifera, belonging to the original European family or species of wine grapes.
Time seemed to stand still in Lodi, and I knew it would be sad when it was time to go back to my busy life at home. By time standing still, it is now a matter of "being stuck in Lodi again!" Oops, I just dated myself, Creedence Clearwater, perhaps you remember too.
Good Eats! The Food
Lodi is known as the unofficial watermelon capital of California. While summer and watermelon go hand in hand for many of us, that fact alone doesn't make for Lodi as a city to be known for its amazing food. Still for you that are fans of from farm to table, Lodi is a pretty amazing place. One indicator is that vegetables, fruits and animals thrive in the area.
Remember where Lodi is located. After all it resides in the "Big Valley", of California's Central Valley. Lodi is a robust farming community, as much of the Central Valley communities are. Lodi is filled with so many agricultural wealth and abundance. Everywhere you turn, you can find farm fresh eggs, fruit & vegetable stands that are often family owned. You will find local olive oil, nuts, tomatoes, asparagus, berries, cherries, apples, apricots, local honey, baked pies and more.
Once thought of as just an agricultural area that lacked flamboyance or style of wine country's more sophisticated areas. Today, Lodi is quickly becoming a destination all for outdoor adventures, culinary delights, and incredible, and unique wines.
QUALITY, WITHOUT THE HIGH PRICE TAG
Lodi is simply more affordable to visit but still offers the same experiences as the posher wine regions, including tasting rooms, heritage wineries, quality hotels, and cute walkable downtown areas.
In California's Napa Valley and Sonoma, you can easily pay up to $300 a night for overnight stays or more. Don't get me wrong. Both Napa Valley and Sonoma can be a delight to visit, and still rate among the world's top wine destinations. These primer winery destinations are less crowded in the winter. Like the vineyards, the wineries and those that work in them can slow down. Visits become much more enjoyable than when tourists from around the world flock to Napa and Sonoma in the summer.
In the wine tasting in Lodi's tasting rooms average right around $10 for tastings. In addition, much of the time would get that back or waved with a bottle purchase. Many of Lodi's wineries are operated by members of the family who have been growing wine grapes for generations.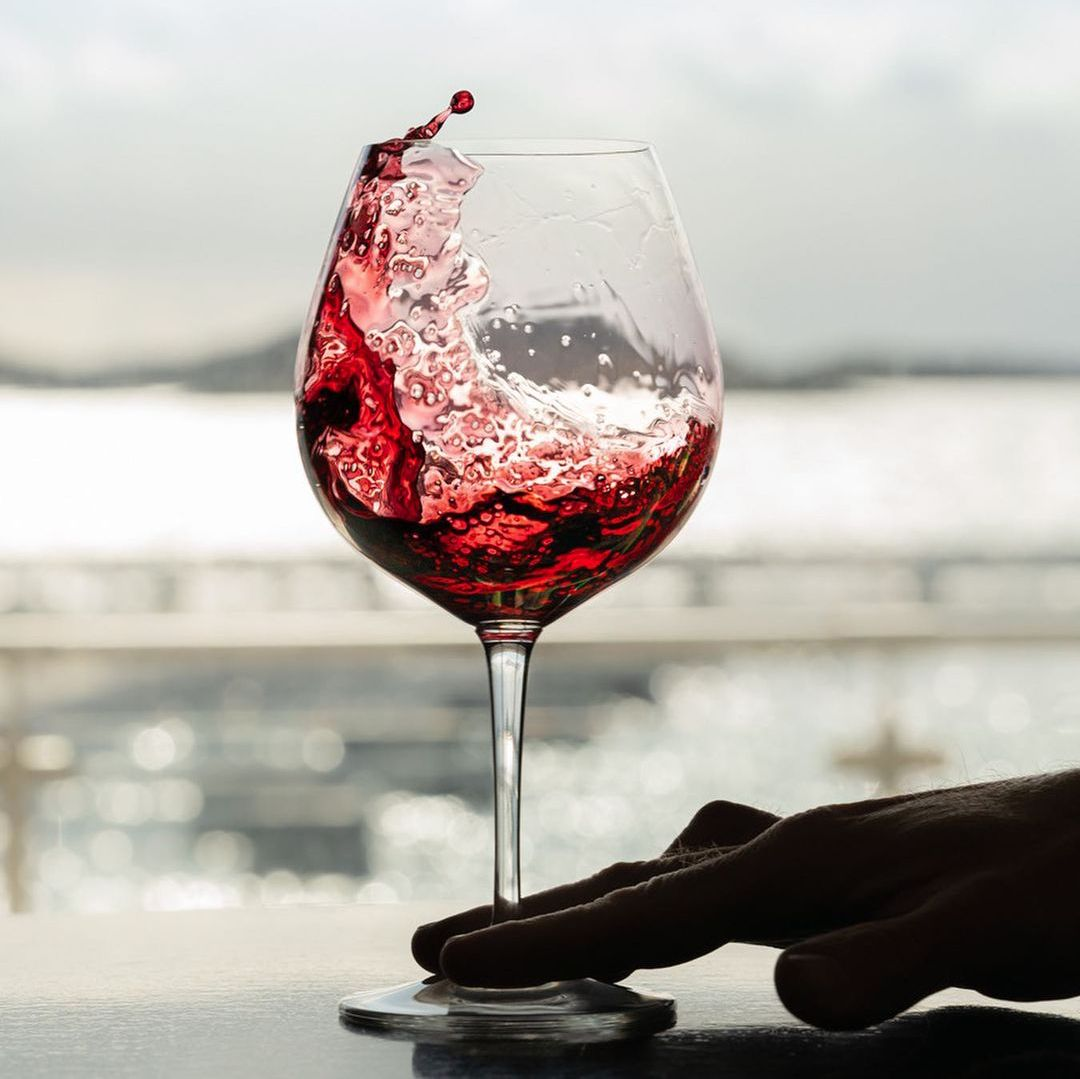 A WIDE SELECTION OF WINES TO TASTE
Lodi wine country is the largest grape-growing region in the state of California. Thanks to the variety of climates and soils in the area, the Mokelumne River, and being in what is known as the Bay-Delta Ecozone, Lodi wineries and its winemakers have a greater variety of tastes to cultivate.
Explore Downtown Lodi
Maybe head to downtown Lodi. Here you'll find a nice selection of wine tasting rooms, vintage shopping, and plenty of restaurants. Great if you don't have a designated driver. You will find the Weibel Family Winery tasting room on School Street offers a unique selection of sparkling wines. Grab a table and order a flight. Another popular winery is Jeremy Wine where you can enjoy a glass or a flight in the tasting room or outdoor seating.
Just outside the center of downtown you will find Twisted Barrel Winery's tasting room is another relaxed and welcoming space. In addition to trying their wines, you can enjoy some light snacks and occasional live music. This family-owned business specializes in Italian, Spanish, and Portuguese varietals.
Here are a few other Lodi wineries to put on your list of wineries while visiting Lodi
The Michael David Winery in southwest Lodi takes advantage of the Zinfandel varietals that Lodi is most known for with its award-winning Freakshow Zinfandel, Seven Deadly Zins as well as Rhône and Bordeaux varietals.
Acquiesce Vineyards
Acquiesce's 2020 viognier won Best White Wine overall. If you love white wines, meet Susan Tipton, owner and winemaker at Acquiesce Vineyards. Susan was inspired first glass of Chateauneuf-du-Pape. Today she produces wines from the vineyard she planted in 2008. Here white and rose wines are the result of the Picpoul Blanc, Grenache Blanc, Clairette Blanche, Bourboulenc, Viognier, and Roussane vines. Here is some news - Sue's 2o21 Grenache Blanc just won Double gold this year out of thousands of bottles competing in the 2022 Sunset International Wine Competition. If you love whites, this is a "buy" for sure.
If German varietals are your favorite winemaker Markus Niggli of Markus Wine Co. German wines like Kerner, Bacchus, Gewurztraminer, and Riesling and some delightful red blends as well. Markus' reds include great wines, an Old Vine Zinfandel, and Markus Toura which received 92 points from Wine Enthusiasts that is a blend of Touriga Nacional, Petite Sirah, and Cabernet Sauvignon. I have only recently started enjoying Markus' wines. With 80-plus wineries, the list goes on.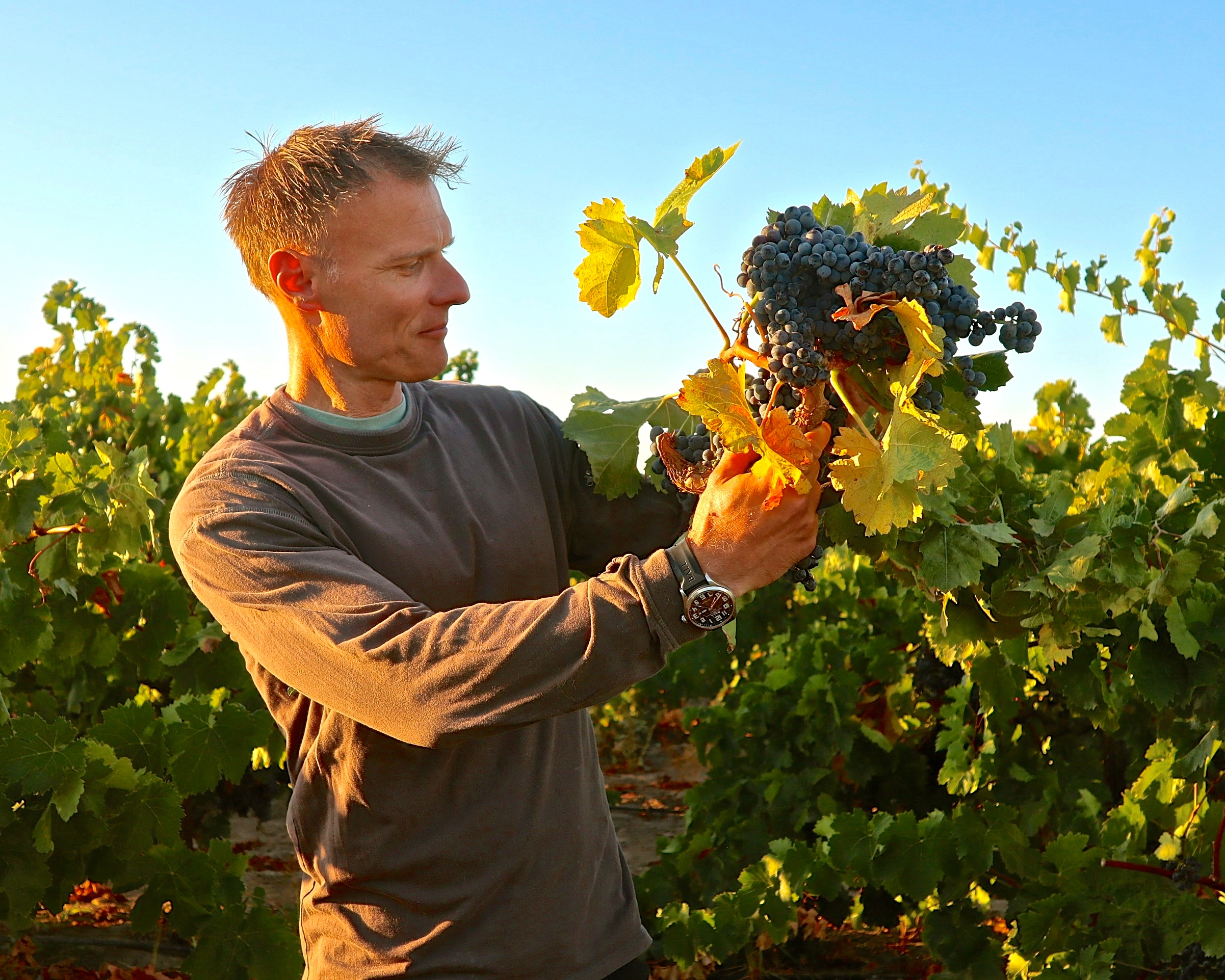 Markus Wine Co - Markus Niggili
Do You Prefer the Out of Doors?
What about kayaking? If that sounds good what about taking a 2-hour guided kayaking adventure on Lodi Lake and the Mokelumne River with Headwaters Kayak? Kayaking isn't the only outdoor adventure at Lodi Lake. Take a hike on the wooded trails of the Lodi Lake Wilderness Area with 3.2 miles of pathways that follow the river and the natural wonders of the area.
If biking is more of your style but you didn't bring your bike with you, no problem. More outdoor fun can include a guided bike tour with Lodi Cyclery, through the downtown area and the quiet backroads of wine country.
Yet More Unique Excursions and Experiences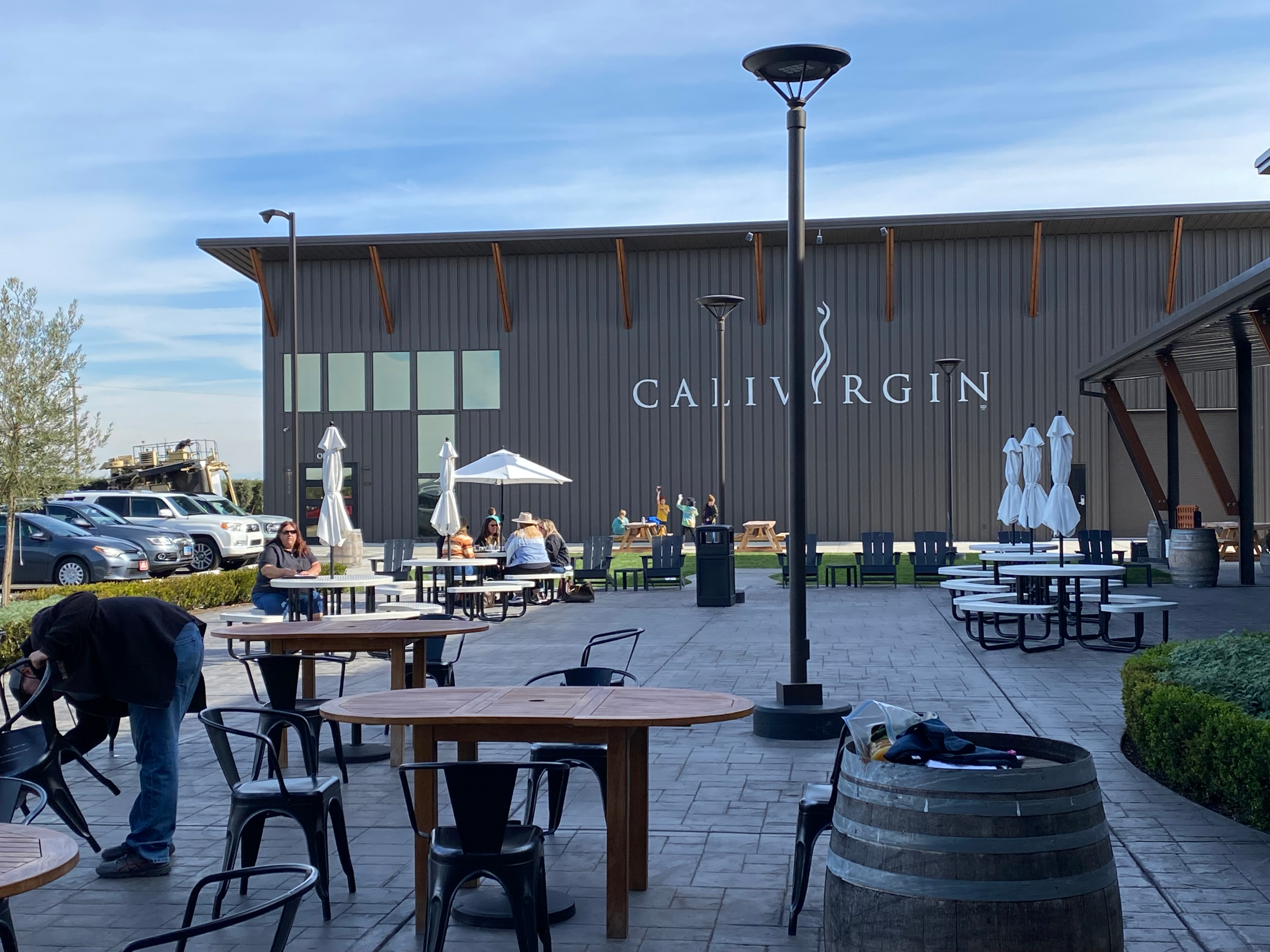 Calivines Winery & Olive Mill
Nothing quite tastes as good as food you make from scratch, whether you prepared it or someone else. Lodi also has fun culinary experiences like cooking classes, cheese events, and more.
Another unique excursion is an olive oil tasting session with Calivines Winery & Olive Mill, which makes award-winning olive oils and a barrel-aged balsamic that is outrageously good.
Did you know that Lodi is also the birthplace of A&W Root Beer? The Lodi Avenue location houses the largest collection of A&W Root Beer memorabilia. How long has it been since you enjoyed an A&W Root Beer float?
A unique store to visit in Lodi is Cheese Central. Cheese Central offers up hundreds of different types of cheeses from all over the world. If you timing is right, they also hosts wine tastings and pairings.
A FEW WINERIES TO BE SURE TO TRY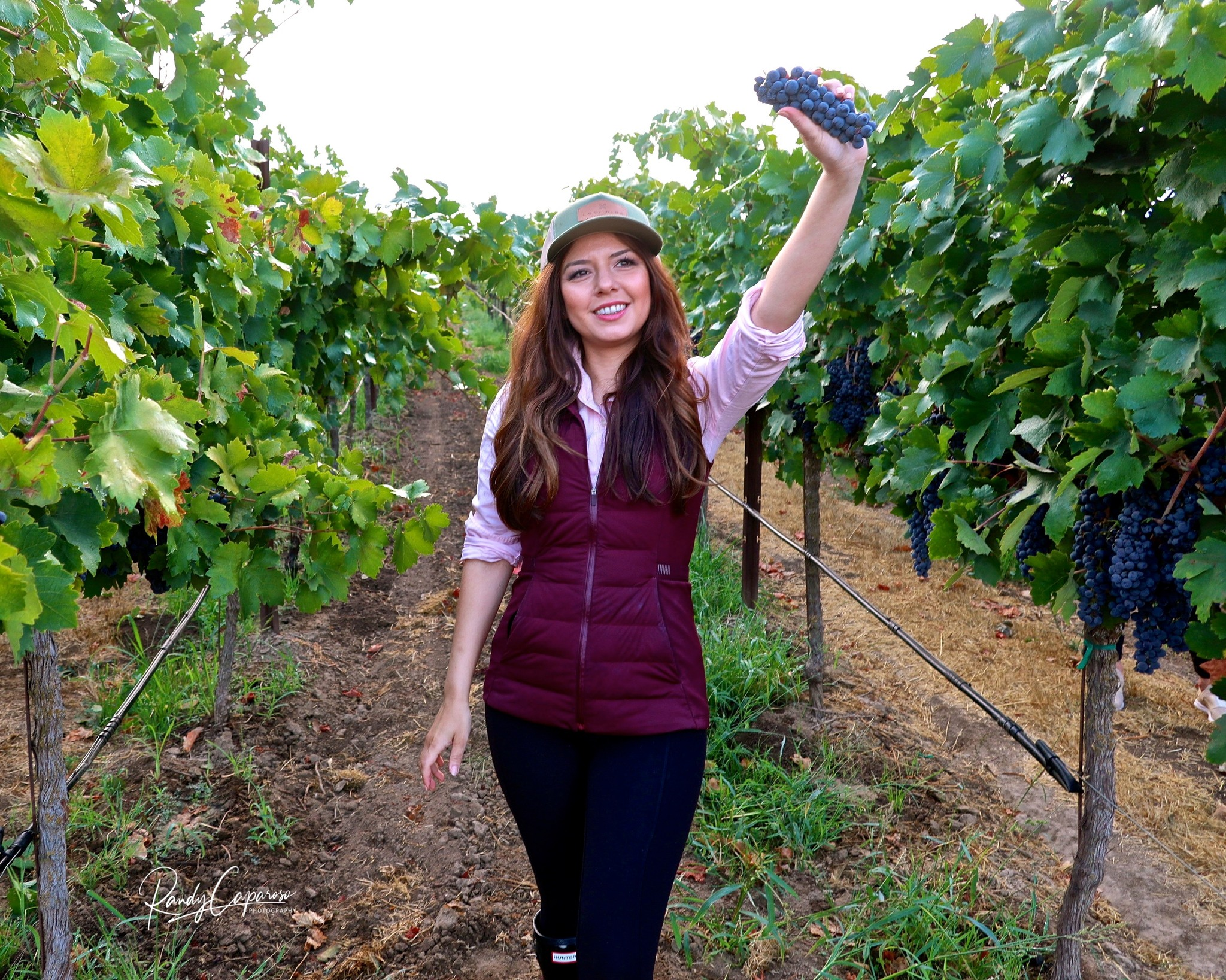 Abba Vineyard - 2022 Syrah Harvest
With more than 80+ Lodi wineries to visit it can be hard to know where to start. Here are just a few wineries that I would like to suggest. Either way, you are sure to find a new favorite in your search, and that can be a lot of fun! Lodi wineries produce fine wines that will please everyone's palate.
Jessies Grove is one of my favorite wineries. Winemaker Tana Cole is a delightful winemaker I have had the privilege to be part of the Annual Cabernet Franc Celebration. Tana is a delightful individual with, of course, a passion for wine making and wine itself. Greg Burns may not remember but years ago he was a delightful host and poured for me during one of my visits.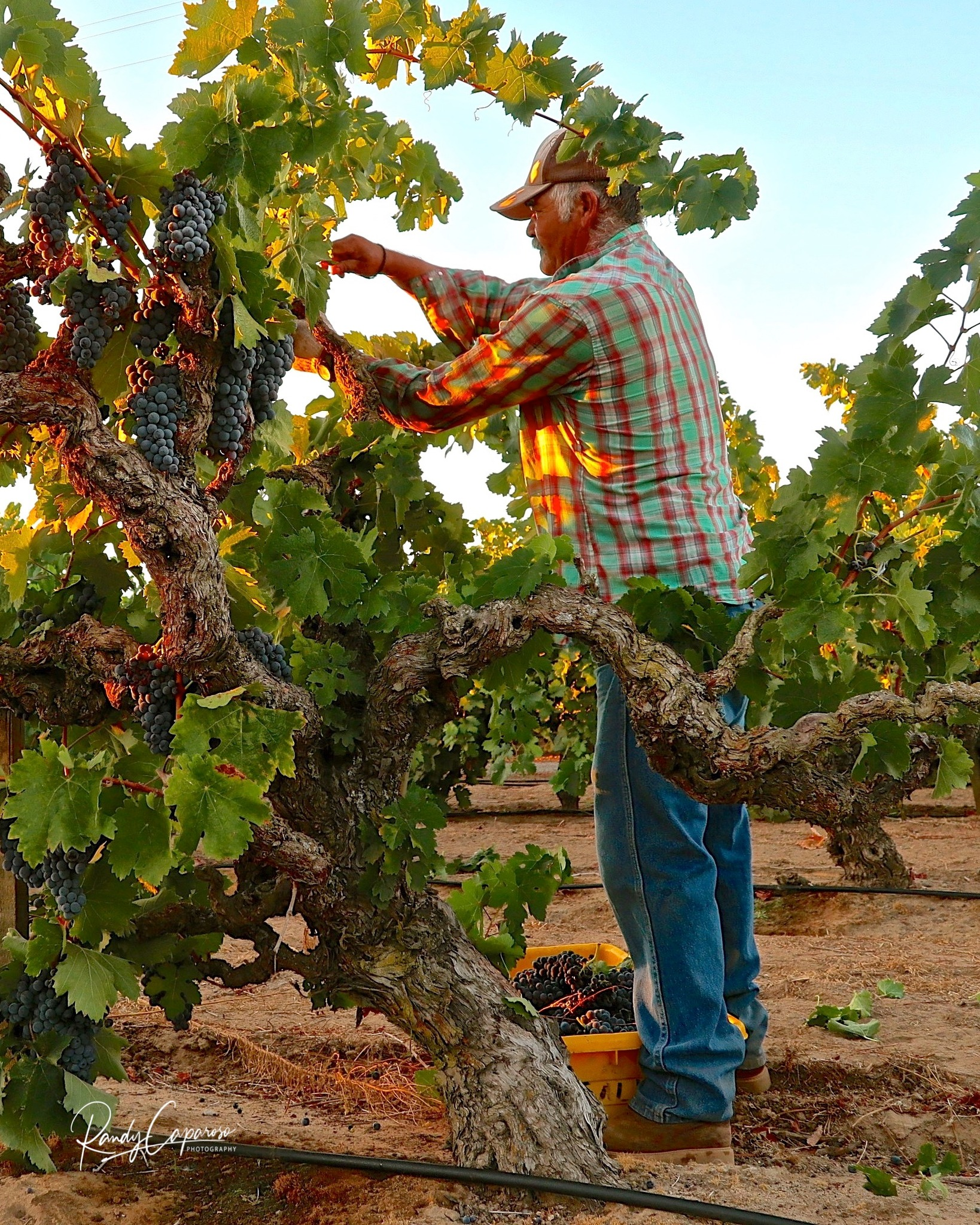 133-year-old Zinfandel Vine - Lodi, CA
Zinfandel? Yes, they have Zinfandel and some very nice ones at that! However, you are not limited to just that wine grape as you enter their tasting room. Be sure to taste their Royal Tee, a Zinfandel and Earth and Fire two great Zin's for you to try together to see how versatile Zin can be. Other reds are Carignane, Merlot, Petite Syrah. Some of the wine wines produced by Jessie's Grove are a couple of different Chardonnays, Symphony (I just love the way this wine greets you as you approach the glass), a Pino Grigio, and a Verdelho.
When you visit Jessie's Grove Winery be sure to tell Tana Cole the winemaker hello for me. I look forward to joining her and the other judges at the 4th Annual Cabernet Franc Competition & Celebration next year.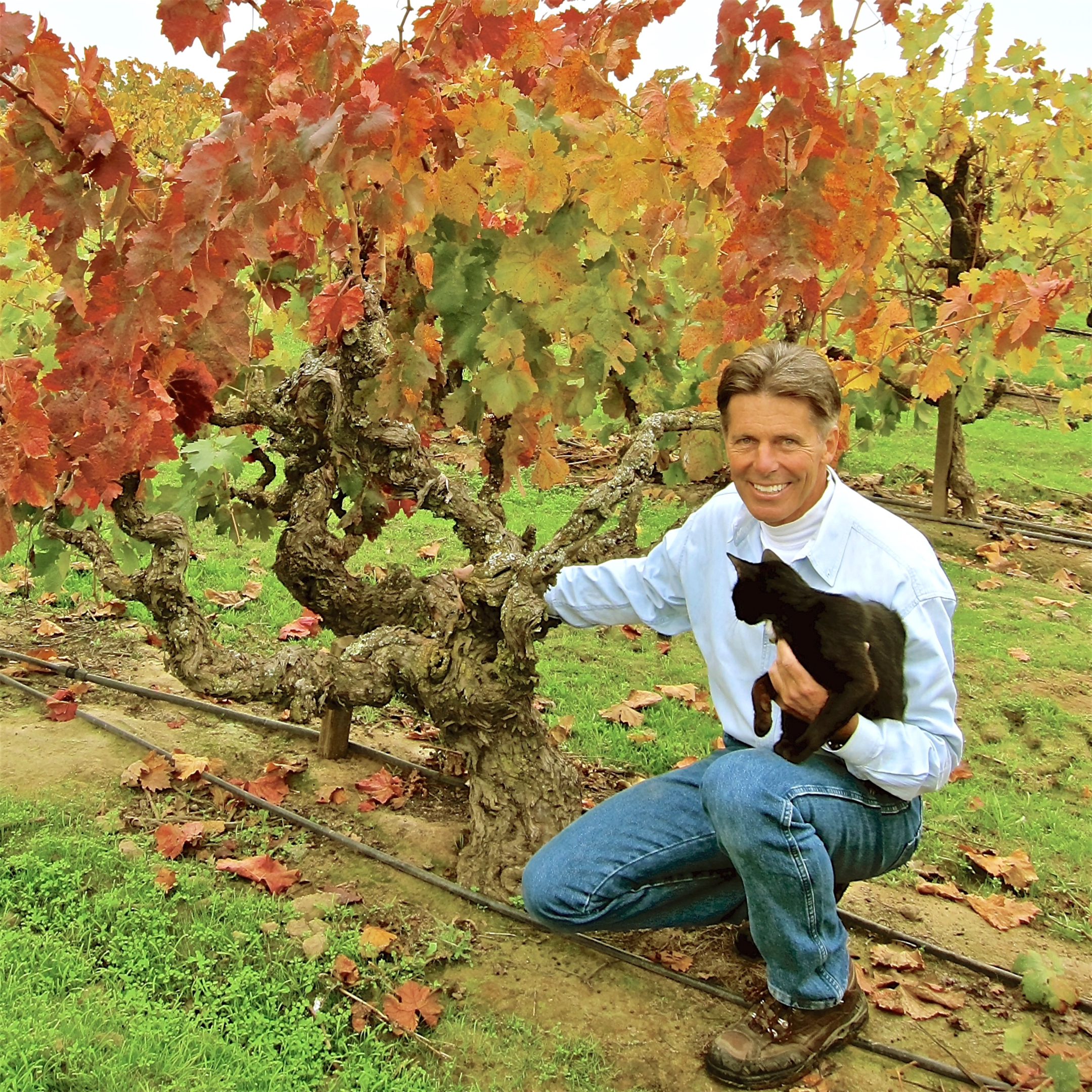 Jessie's Grove - Gregg Burns - Royal Tee Carignan
Michael David Winery Fantastic Café. Beautiful Gardens. Wide selection of wines. The labels on the bottles are created by local artists. You will find an attentive and intelligent staff. Great Pies! Fruit & Veggie stand. Michael David Winery is one of many Lodi wineries that produces Old Vine Zinfandel wines. Michael and David of the Phillips family carry on the family tradition at the winery and tasting room while making it a great stop for the entire family. If you have some children with your visit, they are going to love the kids corral where they can run around and burn off some of that energy before returning to the car for the ride home. If available be sure to try the Michael David's Cabernet Franc - it is a wonderful wine for you red wine lovers
Peltier Winery & Vineyards is a cutting-edge, innovative, sustainably farmed, certified green estate-grown vineyard. This Lodi winery allows wine lovers to bring in outside food and picnic while tasting. Tastings are $15 and are worth every penny.
Harney Lane Winery has gorgeous grounds meant to enjoy with a glass of wine at your leisure. The 64-acre parcel is impressive and exudes quality. You can bring a picnic and sit under the shady trees sipping on a scrumptious glass of Lizzy Jane Old Vine Zinfandel. The Harney Family still lives on site and has been there for three generations.
McCay Cellars is a welcomed surprise. Being a true boutique winery, you won't ever find McCay wines in the grocery store because it's sold direct in the tasting room. The wines are complex, and easy to drink so that everyone is likely to find a favorite or two. Be sure to try the Grenache.
Heritage Oak Winery is located on an isolated stretch of Woodbridge Road six miles east of Lodi, California on 106 acres of property that nestles up against the north bank of the Mokelumne River. The winery was built beneath a towering blue oak tree that dominates the landscape for miles around. Depending on your personal preference Heritage Oaks Winery provides an elevated tasting experience in a back to nature manner.
m2 Wines produces small lot, hand-crafted wines. You like great service, fabulous wines, and the occasional train rolling by then this is the place, and all dogs are welcome!
THINGS TO DO AND SEE WHILE IN LODI
Great Restaurants
It only makes sense that with so many fresh and seasonal, locally grown ingredients, the restaurant scene is colorful delight to the eyes as well as your taste buds. If you are arriving off Interstate 5, Michael David Winery and Café is the first winery you come to. While all the sandwiches are great consider this treat Shrimp & Avocado Sandwich on a house-made croissant was off the charts. The portions were generous which you just don't see as often these days. If you have been driving a while to get to Lodi Wine Country here is a great place to stop and take care of that empty stomach before hitting the wineries.
The Towne House Restaurant at Wine & Roses Resort. Towne House Restaurant has a timeless feel. The decor is beautifully appointed and exceptionally comfortable. The bartender was very helpful and even managed to produce a signature cocktail. Ordered the Cheese and charcuterie Board.
The local artisan cheeses are of perfect serving temperature and tastefully presented on the platter with care. You will love Towne House Restaurant at Wine & Roses. Wine & Roses is a delightful indulgence and if you are planning on staying the night, rooms are hard to come by at this popular resort. So be sure to book ahead!
Local Events
2022 Lodi Heroes 10K & 5K Fun Run/Walk
Registration starts at 8 AM - Fun Run/Walk Starts at 9 AM
Location: Jessie's Grove Winery
Time: 8:00 AM to 2:00 PM
Email: tastingroom@jessiesgrovewinery.com
Phone: 209-368-0880
January-February
No matter what time of year, there are always plenty of places to go, things to do and lots of ways to enjoy Lodi and its people.
In January, there are many key events recognizing accomplishments of our people and celebrating their successes, such as the Outstanding Citizen of the Year Celebration. Visit www.lodichamber.com for more information on this event.
March-May
Springtime brings beautiful weather and a myriad of wine-tasting events to Lodi. The Spring Wine Show at the Lodi Grape Festival Grounds is perhaps the largest wine show of the year, with several thousand visitors tasting the offerings of dozens of area wineries. Visit www.grapefestival.com or call (209) 369-2771.
For an event that allows you to enjoy the outdoors as you taste all the best that Lodi has to offer, come to historic downtown Lodi for the School Street Wine Stroll.
This affair brings award-winning wine, food, first-class shopping, and entertainment together in a unique open-air event. Over 25 local wineries will take up residence in the unique shops of Lodi's historic district. Each participating business is paired with a winery for the evening. Merchants provide delicious hors d'oeuvres and offer special sales while the winery pours a tasting of their label to strolling visitors, wine lovers, and shoppers. Visit www.lodichamber.com or call (209) 367-7840, ext. 100 for tickets and information.
Zinfest is another popular wine-tasting event that takes place in May. Featuring over 40 local wineries, a dozen regional restaurants, live music throughout the day, vendors, and an on-site wine store, this event continues to draw wine lovers to its lovely lakeside location. For tickets and information, visit www.zinfest.com or call (209) 367-4727.
June-August
Every Thursday evening there's "a happening" at the downtown Lodi Farmers Market. There are all kinds of offerings, including delicious locally grown fruits and vegetables and food vendors. Visit www.lodichamber.com or call (209) 367-7840 for more information.
Because summer days are so invitingly perfect here in Lodi, food and wine outdoors is easily found at many events. Another great event is the Lodi Health Hospital Foundation's Summer Fest, held each year during the second week of July at the beautiful Woodbridge Winery of Robert Mondavi. Visit www.lodihealth.org or call (209) 339-7582 for more information.
Concerts in the parks, plays and celebrations of all kinds happen all through the summer. The 4th of July is an evening the city and local clubs put together spectacular fireworks show over picturesque Lodi Lake.
September-October
Harvest time in Lodi is a busy time, and fall is a season of festivals and fairs. As the harvest is completed, members of the community coordinate the Grape Festival at the fairgrounds. The Fair has all the trappings of an old-time country fair – right down to blue-ribbon quilts, pickles and pies. The fun is oozing out from grape stomp contests to incredible billboard-size murals made from grapes! Of course, there is wine to taste and great food to eat and a carnival for the kids. Visit www.grapefestival.com or call (209) 369-2771 for more information.
The Lodi Street Faire is the largest antique and craft fair for 100 miles in any direction. Over 500 vendors and exhibitors line 14 downtown city blocks with their creations and collectibles on the first Sunday in October.
November-December
The Sandhill Crane Festival is headquartered at Hutchins Street Square early in November. The fest has over 60 wildlife tours going out in all directions. The 6,000 – 8,000 Sandhill Cranes that winter in Lodi are a true spectacle of nature. Each crane stands at approximately five feet and has a wingspan of seven feet. Every evening, the birds do their "fly-in" at sunset. The festival has many offerings, including an art show, workshops, storytelling, nature tours, music and dance, and hands-on exhibits. Call (800) 581-6150 or email at info@cranefestival.com.
For more information, on additional events in Lodi throughout the year you can also check the link provided LODI CALENDER Of Events Lodi, CA Events Calendar - Visit Lodi
SO MUCH MORE TO SAY ABOUT WINERIES IN LODI
As we bring this article to a close is has become clear that more will need to be shared in the future about Lodi wineries. Perhaps a future article something like: "Top 10 Wineries in Lodi" or "Discover some top wineries in Lodi!" That being said, be on the lookout for a future article I hope to get ready and prepare for your next wine-tasting trip.
A Special Thank You to Contributing Photos - Randy Caparoso Photography
I want to take a moment to thank Randy Caparoso of "Randy Caparoso Photography" for sharing some of his many photos of more than one family-owned winery that calls Lodi home. I would also like to inform you that Randy has published a beautifully done book entitled "Lodi!" The definitive guide and history of America's largest wine-growing region. If you are eager to learn more about Lodi wineries and America's largest wine-growing region, be sure to take advantage of the link to learn more about this publication.