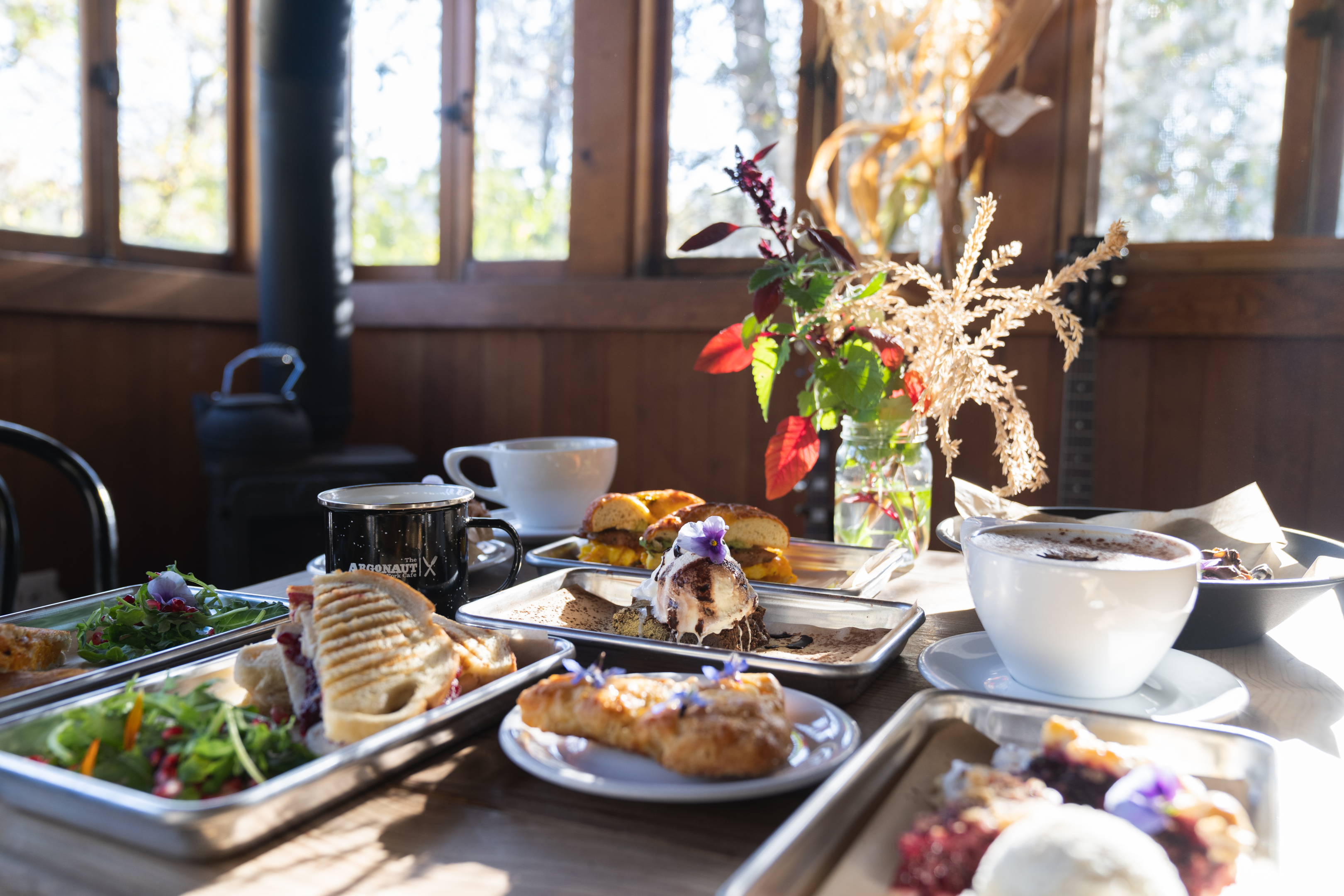 Of all of the wine regions that California has to offer, there is a delightful place you will find as you travel from Sacramento toward Lake Tahoe. There you will find El Dorado Wineries, shops, eateries, and more to enjoy.
When you visit El Dorado Wine Country you are greeted by rolling vineyards, delectable cuisine, and captivating attractions await. If you are a food and wine enthusiast seeking a picturesque escape, you have stumbled upon the perfect destination. Nestled in the heart of California's Gold Country, El Dorado County boasts a hidden treasure trove of wineries, restaurants, and attractions that will leave your taste buds tingling and your spirit rejuvenated.
Just a short drive from Sacramento, imagine strolling through lush vineyards, basking in the warm California sun as you sample award-winning wines crafted with passion and expertise. From bold reds to crisp whites, El Dorado County wineries offer a diverse selection that will delight even the most discerning palate. Savor the wines of El Dorado Wineries, the flavors, and aromas as you embark on a journey through the region's unique terroir, where the combination of elevation, climate, and soil create truly one-of-a-kind wines. Do not worry if you are new to the world of wine; the friendly winemakers of the El Dorado wine region are always eager to share their knowledge and guide you in finding the perfect glass to suit your taste. But the wine and the El Dorado wineries are just the beginning – El Dorado wineries have so much more to offer. Are you ready to experience a taste of paradise? Imagine yourself surrounded by lush vineyards, bathed in the warm embrace of the California sun. El Dorado wineries offer a sensory journey like no other, with their exquisite wines crafted with a passion that can only be described as pure artistry. Whether you prefer the boldness of a rich red or the refreshing crispness of a white, these wineries have something to satisfy even the most refined palate. And do not worry if you are new to the world of wine – the welcoming winemakers are ready to share their knowledge and help you find the perfect glass to suit your taste.
The wonders of El Dorado do not stop with just El Dorado wineries
Prepare to be enchanted by a world of delectable cuisine and captivating attractions. This hidden gem nestled in the heart of California's Gold Country is a haven for food and wine enthusiasts seeking a picturesque escape. With an abundance of wineries, restaurants, and attractions to explore, your taste buds will be tingling and your spirit rejuvenated. So, if you are ready to embark on a journey through the flavors and aromas that make El Dorado County truly unique, pack your bags and get ready for an unforgettable adventure.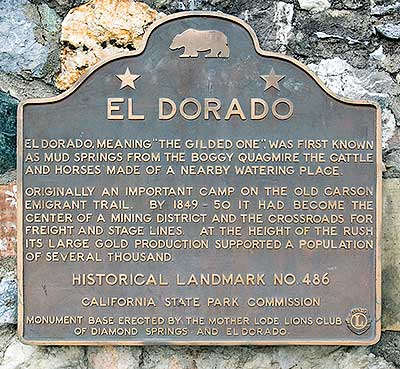 Start with some history!
The discovery of gold in Coloma resulted in the California Gold Rush and soon the area was filled with eager gold miners wanting to strike it rich. What was once a mining camp was quick to become a city. Still to this day, many buildings from the 19th century line the Main Street of Placerville. Stop by the El Dorado County Chamber of Commerce Visitors Center and pick up a self-guided historic walking tour guide to get to see some of Placerville's history.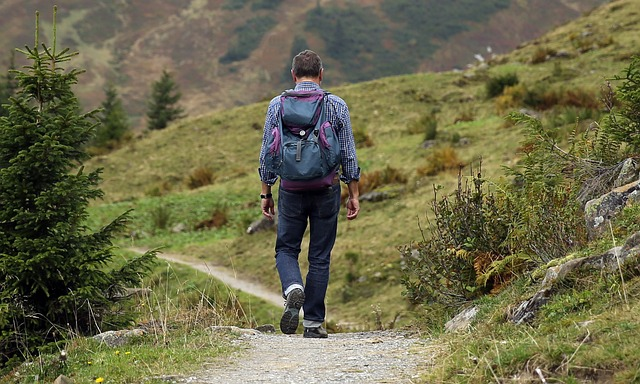 Nature is calling!
The El Dorado provides opportunities for hiking, biking, swimming, fly fishing, or camping. Wilderness is also nearby, a hiking and backpacking gem that offers serene and scenic views of landscapes and high alpine lakes is the place to be if you have a distinct taste for wine. Enjoy the hearty Cabernet Sauvignon or the fruit-forward Chardonnay at Lava Cap Winery. Head to Madrona Vineyards for some Gewurztraminer and Malbec. Boeger Winery boasts of a lovely garden-like setting.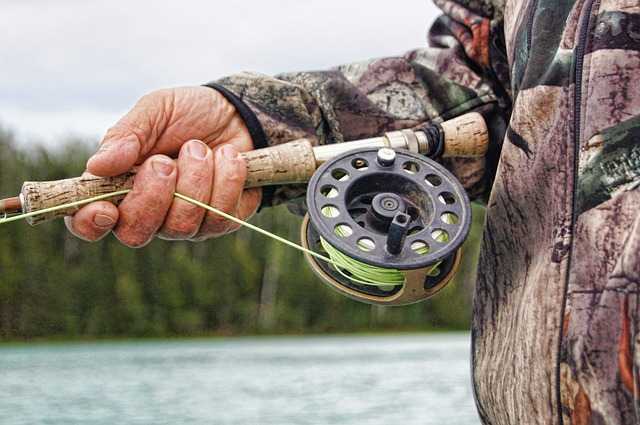 Jack Russell Brewery- If you are more of a beer fan then pay a visit to Jack Russel Placerville's historic Main Street.
The Bookery – Literature or theater, history or tourism, this cozy bookstore will have a good read for every genre you could want.
Placerville Antiques – A large selection of collectible coins and glassware, furniture, and jewelry from days gone by; you will find everything here.
Tree House – Take back some unique artwork, home décor items, or kitchen goods from this quaint shop.
Fill your stomach.
Long day? Why not recharged? Placerville will not disappoint! Check out:
Heyday Café – Stop by to relish fine foods. We recommend the flat iron steak with chimichurri and the seared tuna with herbed farro.
Bricks – The classic pub fare like wings and calamari or hearty dishes like beef tenderloin with mushroom rosemary sauce and blackened lamb chops with Dijon cream, Bricks is the place to be.
For the Foodie: Restaurants You Have to Try in El Dorado County Foothills
Most of us love to eat. Enjoy Mom-and-Pop restaurants to amazing breweries. There is something for everyone's taste. Here are a few dining recommendations!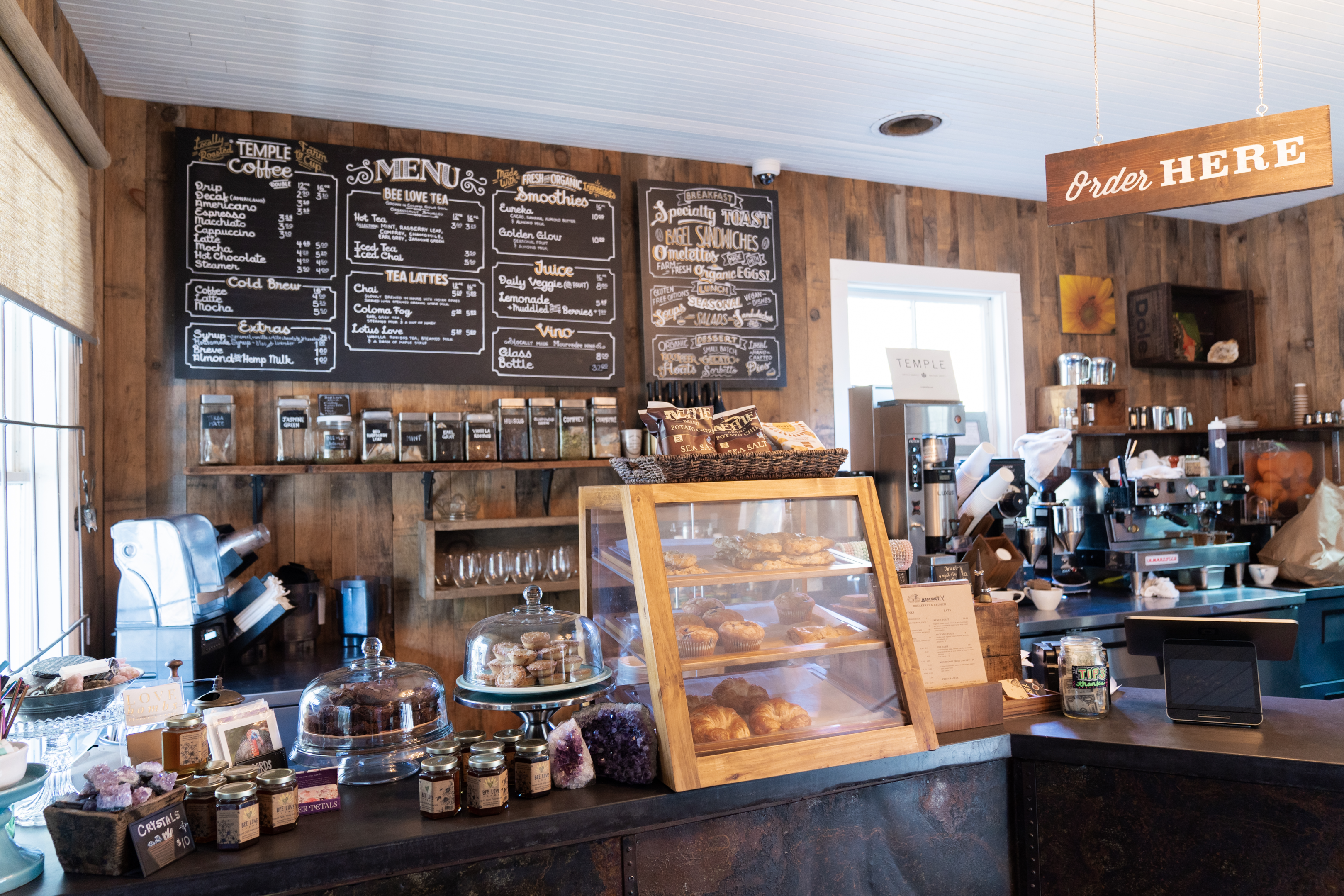 The Argonaut Farm-to-Fork Cafe 331 State Hwy 49 Coloma, CA 95613
Located in the Historic Schulze House built in 1916. Today it is home to the Argonaut. The Argonaut is a piece of history. The front counter is graced with fresh pies. This Farm-to-fork has a rustic ambiance that makes customers feel right at home.
If you are all about organic food, then you will love the Argonaut!
Pizza Bene - 423 Main Street, Placerville
This restaurant brings authentic Napoletano pizza to Placerville by Pizza Bene's Ben Butler. They even have a 5-star pastry chef in charge of making delightful desserts. Maybe some homemade gelato?
Smith Flat House - 2021 Smith Flat Road, Placerville, CA 95667
Have you ever eaten your dinner in a gold mine? Smith Flat House in Placerville carefully prepares farm-to-table meals. Smith Flat House's Cellar contains an entrance to a real gold mine. Oh, there is the Powder Room but not for what might first come to your mind. This is where they stored the blasting powder for the mine years ago.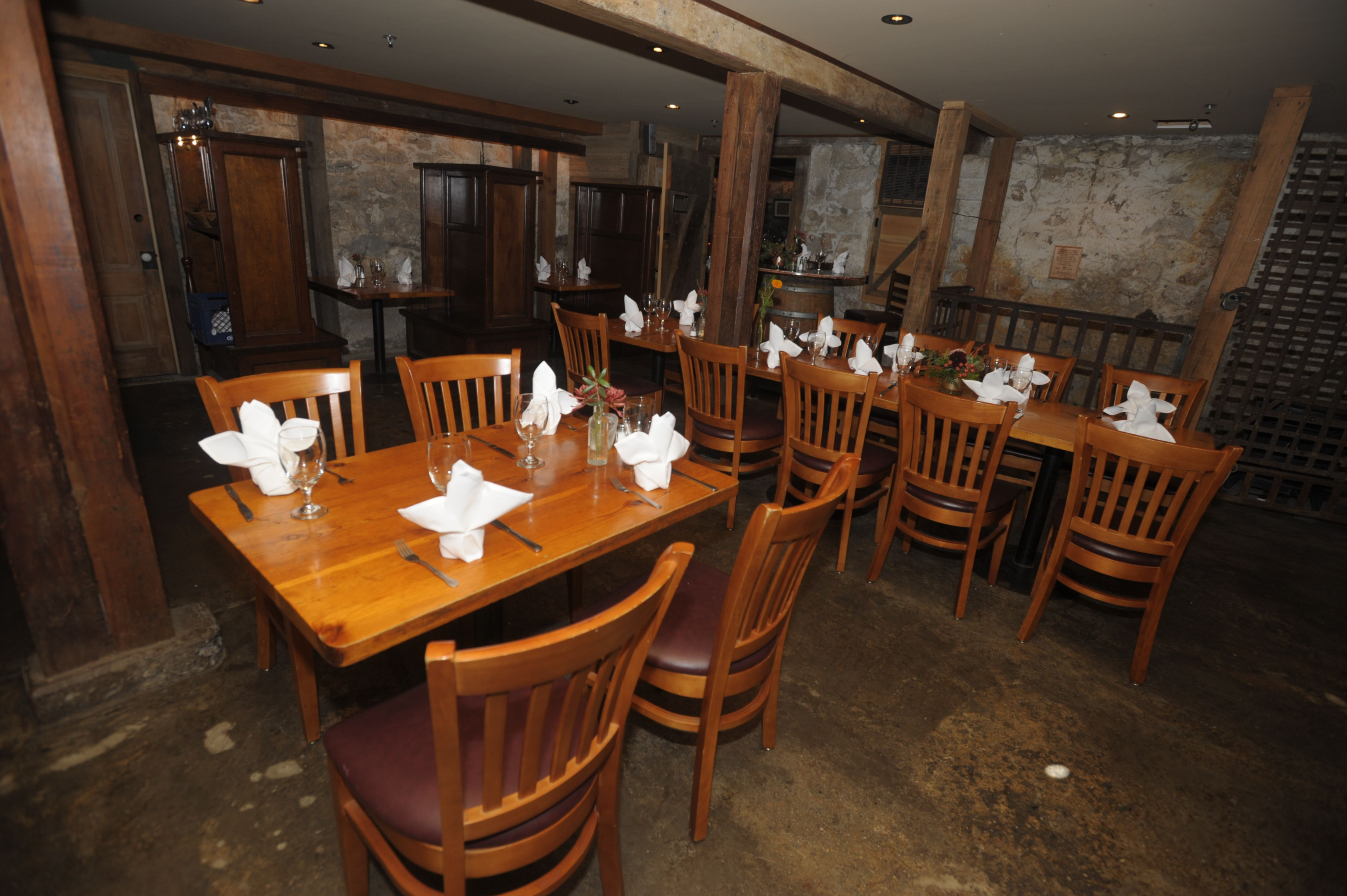 You are sure to enjoy Smith Flat House's delicious salads such as their Deconstructed Caesar Salad, to entrees like their braised Muscovy duck and filet mignon. Enjoy local wines, as they feature only El Dorado County area wineries… even their house wines are local!
In this part of California, you will find so many culinary institutions that use the farm next door, up the street, or around the bend to care for the appetites of these foothill folks. A good meal requires two things: quality ingredients and ambiance. Start the day with breakfast that was grown across the street from the birth of the California gold rush in Coloma.
How about a little fly fish, hike, go wine tasting, pan for gold, or take in history in between meals? There is also no shortage of boutiques and craftsmen in the part of California.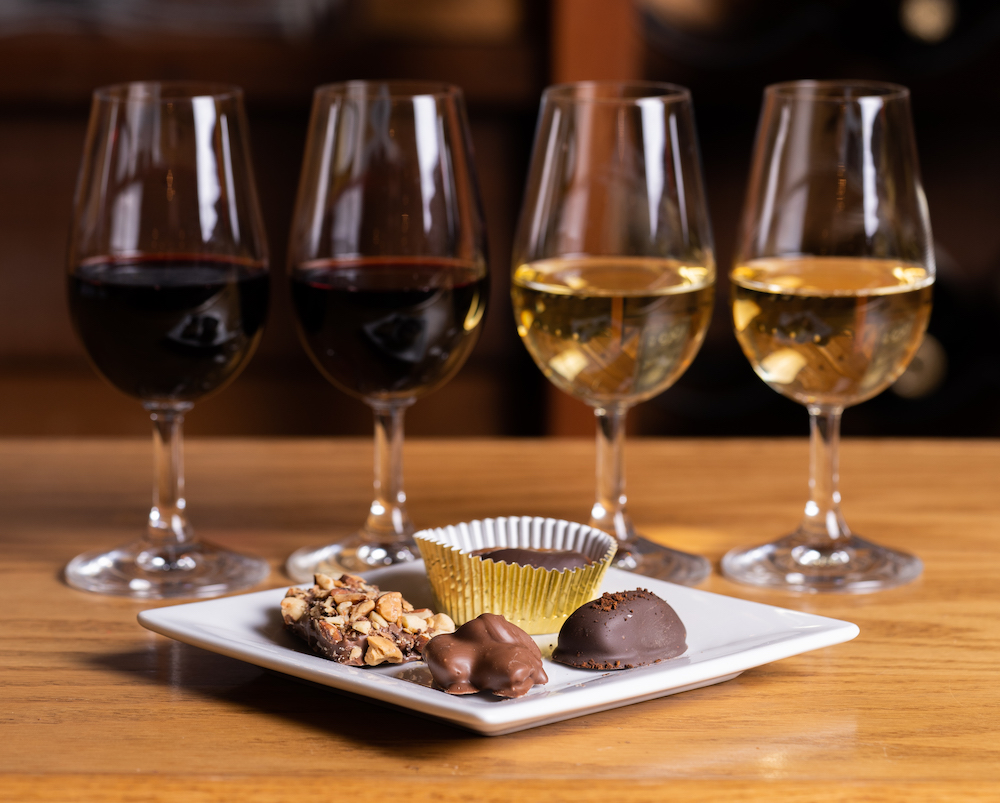 Enjoy a chocolate and wine flight at Annabelle's Chocolate Lounge in El Dorado
In the town of El Dorado, you'll find Annabelle's Chocolate Lounge. That's right, a chocolate lounge. Annabelle's is not your everyday sweets shop. Here you will feel the comfort of stylish couches and chandeliers, a dimly lit table in the corner, and a big wood bar top. Annabelle's is the perfect spot to indulge in a wine flight pairing that gets you four chocolates and four locally sourced wines. Experience a professional chocolatier. A place that puts quality above all and welcomes you with delicious smells and tastes. A must for anyone passing through or local to Eldorado. Annabelle's is truly amazing.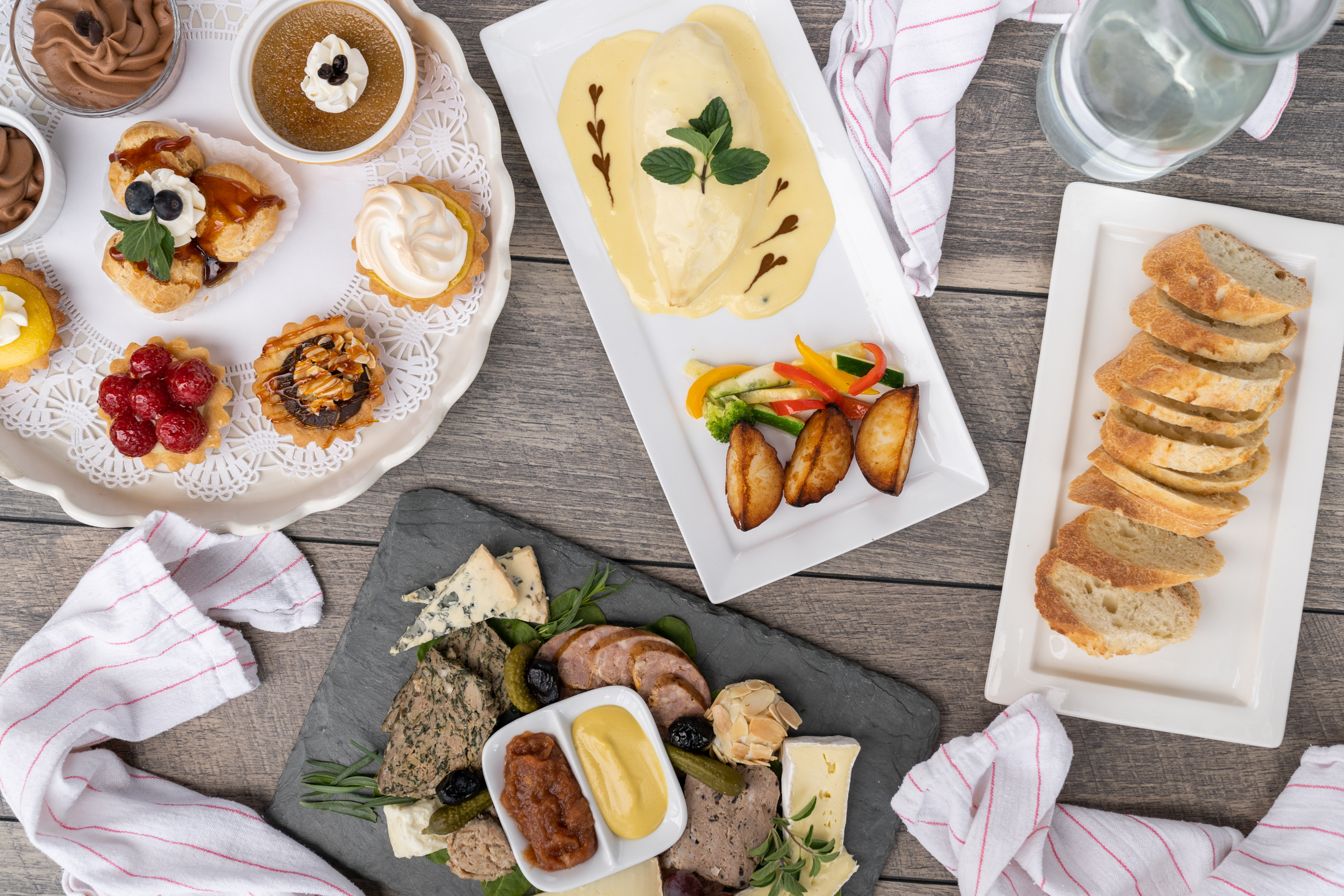 E
njoy house-made pate and other French delicacies at Allez!
Allez is a quiet French eatery that might be just what you are looking for. Enjoy an excellent plate of meats, cheeses, and spreads accompanied by a fresh baguette along with a glass of a local Mourvèdre or Barbera. The Owner and Chef Christian hits a perfect balance of relaxed atmosphere and high-quality food that makes it a definite favorite with the locals. Take it slow. Enjoy your charcuterie spread before moving on to appetizers like a salad, or Escargots in garlic butter. Perhaps Wild Boar Stew, Chicken Cordon Bleu, and more. Do yourself a favor and save some room so you can sit happily with a platter of their beautiful pastries, made by hand.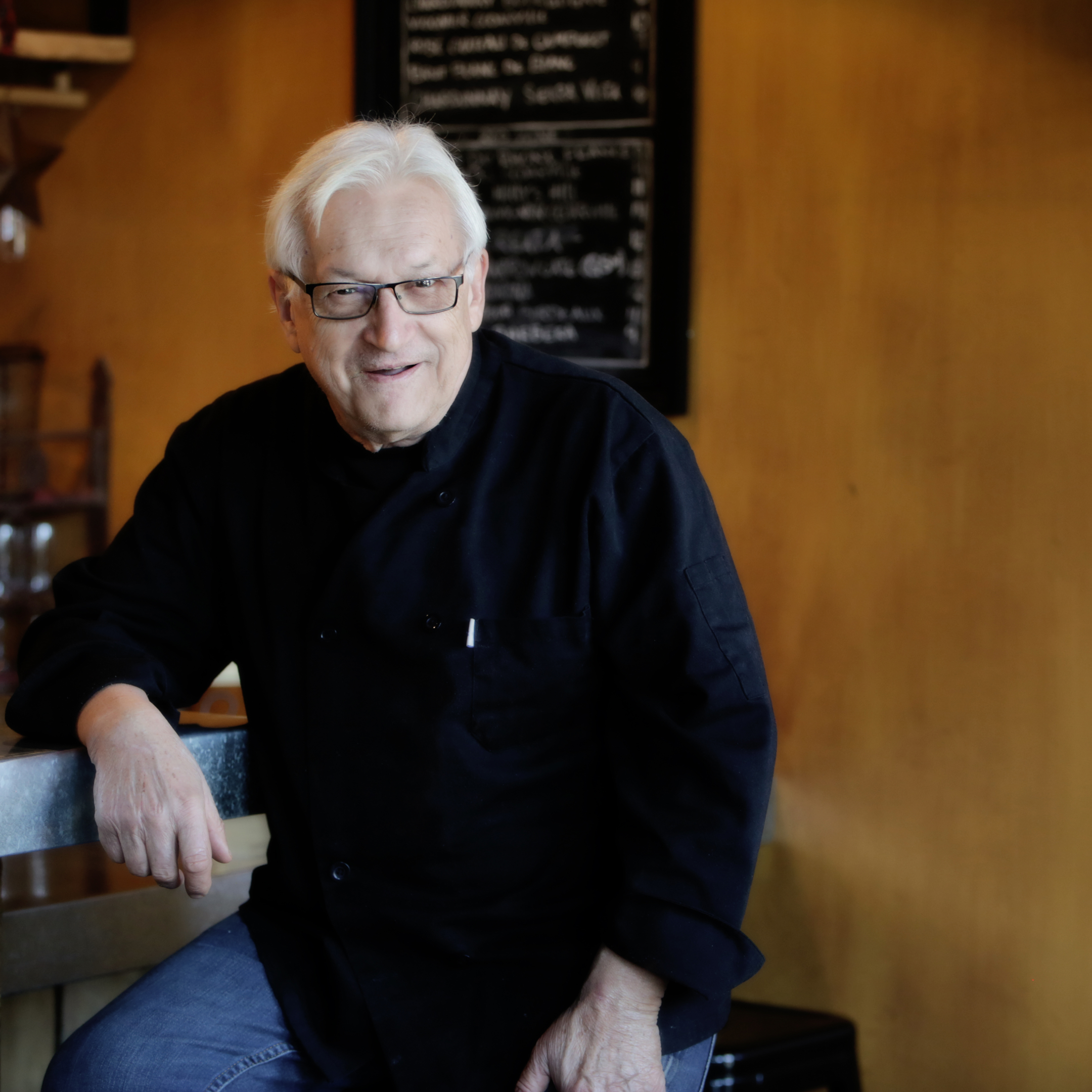 Owner and Chef Christian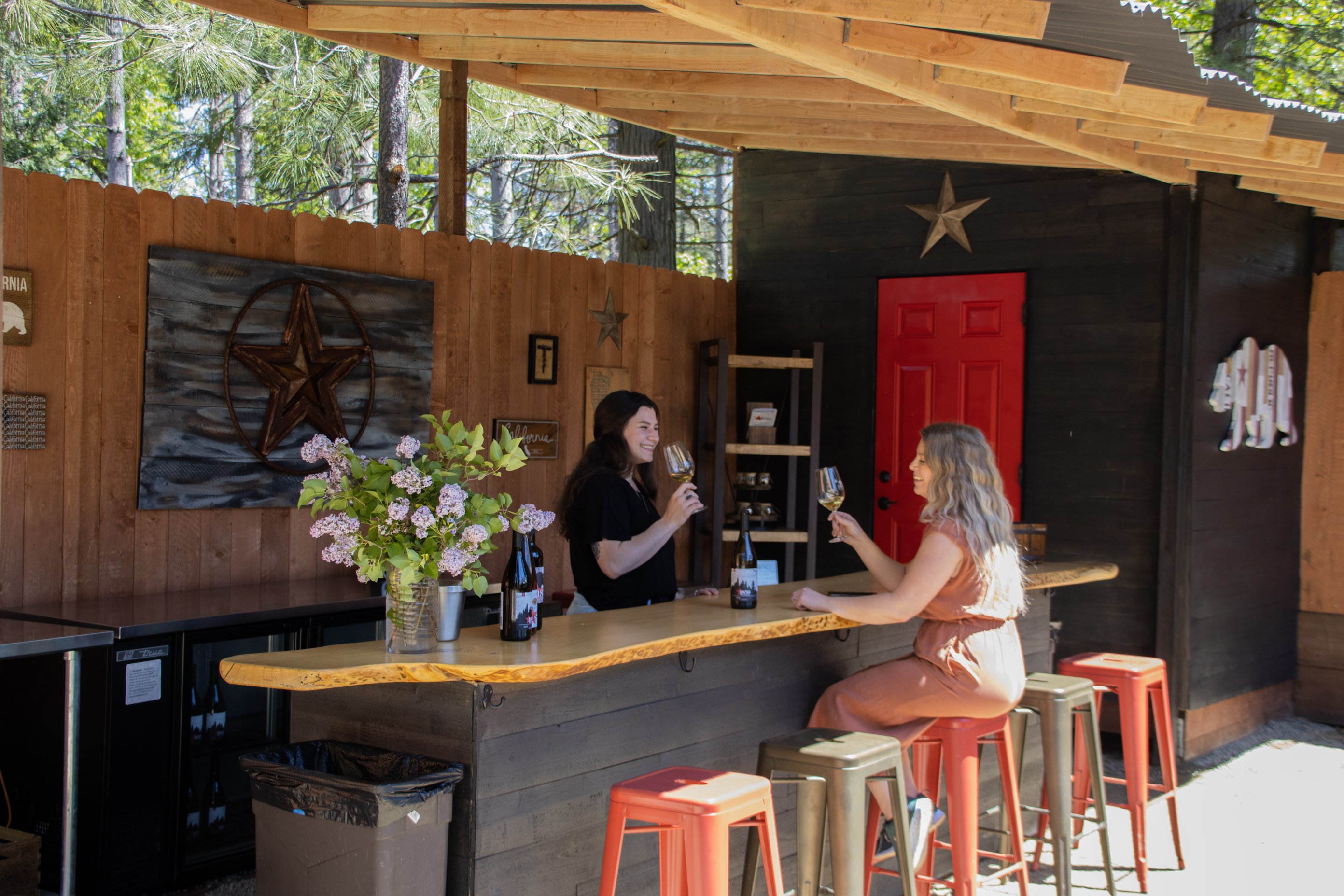 Visit A FEW OF the BEST wineries of the El Dorado AVA
There are over seventy wineries within the county. That being said, you have plenty of wines to choose from. Selecting which wineries to visit, and what wine to taste can be quite the decision-making process. Here are some highlighted local wineries this area has to offer!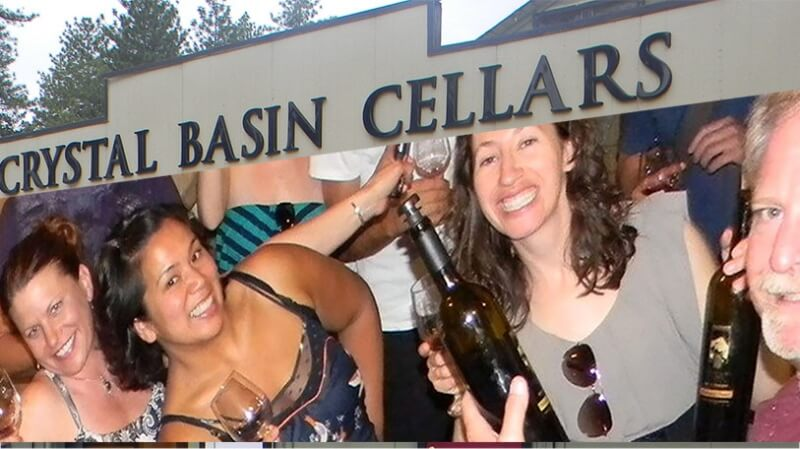 Crystal Basin Cellars
Crystal Basin Cellars is proud to serve you wine that you will no doubt enjoy. All of their wines are crafted from grapes that have been grown and nurtured within 30 miles of the winery.
All the grapes are hand-picked, and fermentations are manually managed including hand punch downs. The winery barrel ages their wines for 18 months before bottling them. The wines you will sample in tasting rooms are perfectly aged for your immediate enjoyment and can be laid down to improve for 3 to 5 years.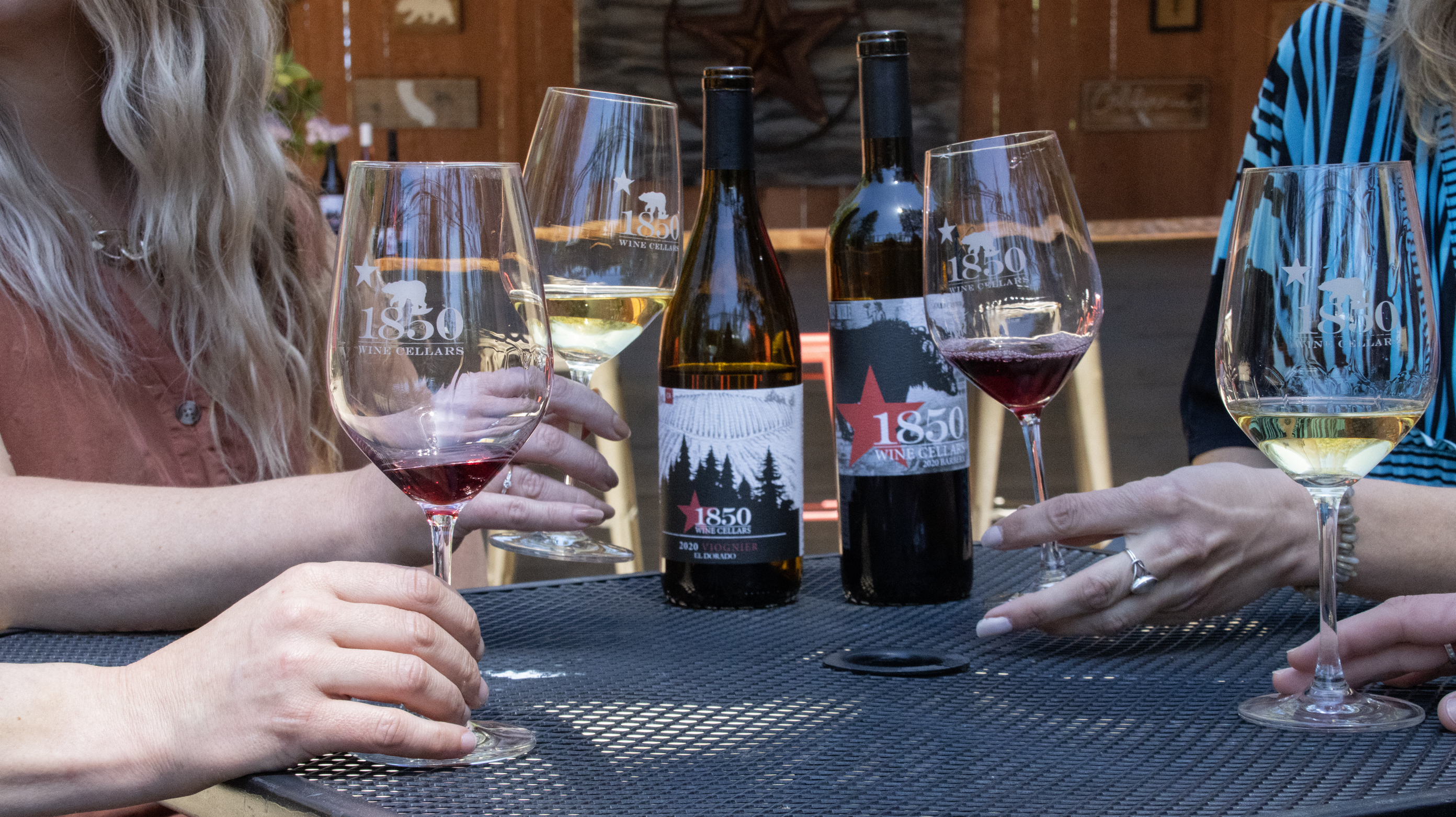 THE PROMISE OF GOLD
1850 Wine Cellars
California was founded on the promise of gold! The gold standard is what 1850 holds itself to. Take in the breathtaking natural beauty and a sense of discovery. Sustainably farming and sourcing grapes from vineyards located primarily in Amador County, Fair Play, El Dorado County, and other Sierra Foothill growing regions, we produce high-quality wine meant to be a part of your next adventure.
Myka Estates
Try visiting the community of Apple Hill on a crisp fall day. Enjoy the rolling hills and orchards surrounding Camino just a few minutes from Placerville. The region's fall hot spot is becoming a must-visit destination for wine tasting with Myka Estates topping the list of locations to experience.
At Myka Estates you can enjoy outdoor seating just moments after exiting the freeway. Soak in the sweeping panoramic views, and lush gardens as you stretch your legs. Not to mention a variety of wine-tasting options and a food-pairing menu awaiting you.
Gold Hill Vineyard
Gold Hill is known for its award-winning Bordeaux varietal red wines and Chardonnay. Italian and Rhone varietal wines are also there to be had. The Cellar of Gold Hills holds over 3,500 cases of wine! Planning an event, wedding, or simply wine tasting? Gold Hill can provide some unforgettable and beautiful experiences.
Gold Hill offers delicious food, live music, and even chair massages! Visit Gold Hill Thursday through Sunday 10 am to 5 pm and is a good expression of what to expect from El Dorado wineries.
Boeger Winery
Boeger Winery has become a well-known winery in the area and was opened in 1974 by the Boeger Family in the El Dorado AVA's well-recognized and favorite wineries. The property itself is one of the historical claims to fame. The property was developed in the mid-1800s. With both historical and updated structures on the property, Boeger offers a taste of the past, present, and future.
There is a cave that was built in 1872, along with the vines that date as far back as the 1800s. Much of Boeger wines are estate wines, 90% of the grapes that are used in the wine you will be tasting are from their vineyard. This results in a delicious quality wine.
Boeger is open for wine tasting daily from 10 am to 5 pm and is only a 45-minute drive from Sacramento for an easy and convenient day trip as well as an unforgettable experience.
Madroña Vineyards
Madroña Vineyards is also near Apple Hill in Camino, CA. Madroña's vineyards offer perfect growing conditions for the full range of Rhone and Bordeaux varietals. The well-drained soil and mild temperatures produce grapes with a mild acidity, and optimal maturity, creating the perfect foundation for this winery's estate-grown and bottled wines.
Skinner Vineyards and Winery
James Skinner established Skinner Vineyards in 1861. In 2006, Mike Skinner purchased the property upon which Skinner Vineyards is now situated in Fairplay, CA.
Fairplay has become one of the County's premier wine-tasting destinations. James Skinner's hand-crafted Rhone-inspired wines have been featured in Wine Spectator, The San Francisco Chronicle, International Wine Cellar, and The Rhone Report. We look forward to your reviews as well. You can email them to us at info@cacorks.com and out in the subject, Skinner Vineyards.
Miraflores Winery
Wine Spectator named Miraflores "a winery to watch." This winery offers a delicious tasting opportunity and a unique experience in its Mediterranean-inspired tasting room which overlooks forty acres of estate vineyards. Enjoy a variety of imaginative events at Miraflores, including art in the vineyards, concerts, and more.
Again, with more than 70 wines in the California AVA, it is difficult to choose one from. Hopefully, this article on the Enchanting World of Eldorado Wine Country will give you the start you need for your California Winery Experience. Go to our California Wineries Directory and view more wineries in our El Dorado Region of the directory. Thank you in advance for being patient as we update the region's listings. Remember, you don't have to limit your visit to one time. You can go back! To do that there is something you need to do....
Come on! It is Time to Go!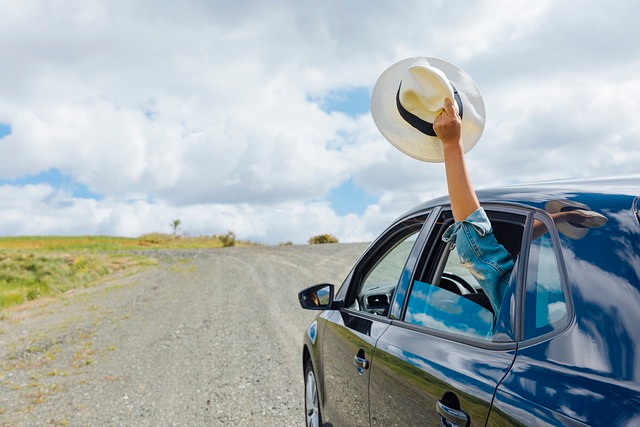 So, if you are ready to embark on a journey through the flavors and aromas that make El Dorado County.
Well, get ready for a truly unique experience. So, pack your bags and get ready for an unforgettable adventure. In conclusion, the winery experience of El Dorado wineries and it's a true hidden gem, waiting to be discovered by food and wine enthusiasts alike. The picturesque landscapes, delectable cuisine, and award-winning wines create a sensory journey that will leave you in awe. Whether you are a seasoned wine connoisseur or a newbie looking to expand your palate, El Dorado wineries have something for everyone. So why not make it a point to enjoy a visit with the winemakers of El Dorado County? Pack your bags, embrace the warm California sun, and embark on an unforgettable adventure through the unique flavors and aromas of this region. Your taste buds will thank you.
If you decide to try some of the wineries and food establishments featured in this article, please send us an email at info@cacorks.com
Special thanks to the Executive Director of Tourism at El Dorado County Visitor's Authority, and business partners for providing some of the photos.